The Apple Watch Series 3 could do VoIP instead of direct phone calls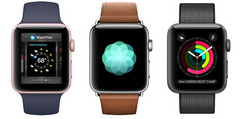 KGI Securities analyst Ming-Chi Kuo seems to suggest that the upcoming Apple Watch Series 3 might support VoIP instead of traditional phone calls, possibly to avoid user experience issues and also due to the lack of internal space within the device for a proper SIM slot.
It is well known by now that the Apple Watch Series 3 will be launching with LTE enabled. It is speculated that this will negate the need to pair the Watch with an iPhone for traditional voice calls. However, Ming-Chi Kuo, KGI Securities analyst, thinks otherwise. In an investor meeting, Kuo told that the third generation Apple Watch is unlikely to support traditional voice calls but will instead support VoIP services such as FaceTime and Skype. According to Kuo, although voice calling is feasible, the "user experience of data transmission" must still be worked upon.
Additionally, Kuo also feels that enabling VoIP in the next Apple Watch will make negotiations between mobile operators simple and the internal antenna design can be simplified by scrapping 3G connectivity. The lack of internal space within the Apple Watch to accommodate a physical SIM is also to be noted which might push Apple to implement eSIM technology. That has its own caveats as not all operators in all countries support the eSIM business model.
The good news is that, there is word on the street that all major US carriers will support the LTE Apple Watch, which in all likelihood will use Qualcomm modems over Intel's despite the ongoing legal tussle between Apple and Qualcomm. Kuo rounds up his predictions for the next Apple Watch by saying that Apple has no intentions of developing an Android app for the Watch and that there will be no 'obvious change' in the current form factor.
The Apple Watch Series 3 will launch alongside the new iPhones in September this year.