The $299 Apple Book: The #AppleBook-Community makes fun of it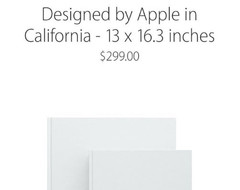 Apple released a catalog of past and present Apple product designs, called it Apple Book and sells it for $299. Inspiration for ironic or sarcastic comments on Twitter and for Stephen Colbert to do a short parody for the Late Show.
The $299 Apple Book contains Apple hardware designs from the start of the company up until now, its 450 pages of high quality paper could be seen by many as another way to make money out of nothing, which is actually one of the most common comments found on Twitter. Others were inspired to create memes or tweet about how this book could possibly work without any adapters or that it just might be the best Apple product because it does in fact not need any adapters contrary to every other Apple product of this year.
Even Stephen Colbert was inspired to do a short commercial for the Apple Book for the Late Show last week and called the Apple Book the most advanced Book Apple ever made. We have attached the video down below, together with some of the most interesting tweets about the Apple Book. Many more can be found under the Hashtag #AppleBook in case you are bored. Oh and the next version of the Apple Book is rumored to be thinner and lighter, or so we heard ...