Tesla's new loyalty program offers a 50% discount on the full self-driving package and free supercharging to Chinese customers who upgrade to a new EV like the Tesla Model Y ↺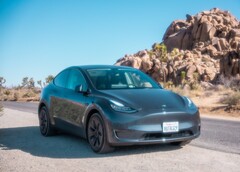 The business model of the electric car pioneer Tesla, which is based on direct sales over the internet, basically offers all prospective customers the exact same price. While many buyers are happy to avoid the nerve-wrecking negotiations at a car dealership, some others are disappointed that the company does not offer any kind of discounts on its electric cars like the popular Tesla Model Y. In a rather surprising move, the company has now deviated from this strategy in its key growth market China.
In the People's Republic, Tesla owners who would like to upgrade to a brand-new car like the aforementioned Model Y can now take advantage of a so-called "Ownership Loyalty Program", which includes three different incentives. First of all, the most expensive upgrade for the Autopilot, which includes full self-driving capabilities, can be ordered at half the price. In China, this amounts to a discount of 32,000 yuan or US$4,740. Since the FSD upgrade costs a whopping US$12,000 in the United States, a similar 50% discount would result in US$6,000 of savings.
The second incentive of Tesla's loyalty program in China includes 15,000 kilometers or over 9,000 miles of free supercharging. In times of rising energy prices, this amount of free supercharging would certainly be a welcome bonus for many prospective Tesla buyers around the world. Last but not least, Chinese customers get a home charging service package worth US$1,200, which probably refers to the installation of a Tesla Wall Connector. In total, the loyalty program provides well over US$6,000 in value, which would correspond to roughly 10% of the purchase price of a new Tesla Model Y in the US. Unfortunately, it remains unclear if these discounts will ever be offered in countries other than China.
Check out the Spigen tempered glass screen protector designed for the Tesla Model Y on Amazon
My fascination for technology goes back a long way to the Pentium II era. Modding, overclocking and treasuring computer hardware has since become an integral part of my life. As a student, I further developed a keen interest in mobile technologies that can make the stressful college life so much easier. After I fell in love with the creation of digital content while working in a marketing position, I now scour the web to bring you the most exciting topics in the world of tech. Outside the office, I'm particularly passionate about motorsports and mountain biking.