Sony Xperia XZ Premium UK release date and price revealed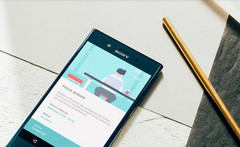 A pre-order listing on Amazon's UK website briefly displayed the information before being abruptly taken down. Expect a late spring release and a decidedly premium price tag.
Sony smartphone fans received today a brief sneak peek at some interesting information for the upcoming Xperia XZ Premium. The phone's Amazon UK listing was updated with both the release date and price, along with an option to pre-order. However, that information was removed almost as quickly as it had been added.
According to Amazon UK, the Xperia XZ Premium is due to be released on June 1, 2017. The relatively distant release date is likely due to Qualcomm's Snapdragon 835 exclusivity deal with Samsung, which prevents other smartphone makers from using the new chipset until after mid-April, when the Samsung Galaxy S8 releases. Other big name devices, such as the HTC U Ultra and the LG G6, are making do with the older but still powerful Snapdragon 821 chipset, allowing them to release much earlier (early March and early April, respectively). Sony's decision to use the new Snapdragon 835 forces it to launch well after its competitors, hence the later release date.
The other big piece of information is the price: £649. That's equivalent to about US $795, a high but not entirely unexpected price; it falls in line with those of other premium flagship phones.
As detailed as the unconfirmed information may be, it may have been a simple product placeholder and thus swiftly removed. But the fact that the phone was temporarily available for pre-ordering makes it likely that the information was simply released ahead of time, and both the release date and price will be officially revealed, unchanged, at a later date.