Seagate introduces consumer-oriented 12 TB Helium HDDs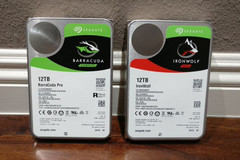 The new Guardian 12 TB HDDs come with helium-filled enclosures that provide increased stability and durability for the PRM platters. The Guardian lineup consists of 3 variants: Baracuda Pro Compute is designed for desktops and entry-level attached storage (250 MB/s transfer rates), IronWolf NAS targets 1-8 bay NAS devices (210 MB/s transfer rates), and IronWolf Pro NAS is intended for 1-16 bay creative professional NAS devices (250 MB/s transfer rates). All variants come standard with 256 MB DRAM cache, 7200 RPM and SATA 6 Gbps interface.
Working For Notebookcheck
Are you a techie who knows how to write? Then join our Team!
Currently wanted:
German-English-Translator - Details here

As a response to Western Digital's 12 TB Helium HDDs, Seagate is now launching its own 3.5-inch 12 TB Guardian HDD lineup that integrate 'PMR platters in a helium-filled enclosure." These new consumer-oriented models come in three variants:
• Barracuda Pro Compute for desktops and entry-level direct-attached storage enclosures
• IronWolf NAS for 1-8 bay home, SOHO, and SMB NAS enclosures
• IronWolf Pro NAS for 1-16 bay creative professional and SME NAS enclosures

As far as specs go, the new Guardian lineup is similar to the Enterprise Capacity V7 HDDs released in March by Seagate. The PMR platters feature a 923 Gb/square inch and are, of course, sealed in a helium-filled enclosure. Other shared features include 7200 RPM platter speeds, 256 MB DRAM cache and SATA 6 Gbps interface. All models come with consume 5 W in idle mode and 7.8 W during loads.

The Baracuda Pro Compute and IronWolf Pro NAS variants have maximum sustained transfer rates of 250 MB/s and rated workloads of 300 TB/year. The IronWolf NAS features somewhat reduced specs, with 210 MB/s maximum sustained transfer rates and only 180 TB/year rated workload.

The new 12 TB Guardian HDDs will be available in the coming weeks, and pricing points for each variant are as follows:
• Baracuda Pro Compute – US$530
• IronWolf NAS – US$470
• IronWolf Pro NAS – US$540