Around a week ago, Intel roadmap slides were made available showing that Gemini Lake would release in October or November 2017 with a Pentium Silver and Celeron processors. These 10-Watt processors are set to replace the previous Apollo Lake Pentium and Celeron processors. Gemini Lake is built using a 14 nm process and is based on the Goldmont architecture — the same process and architecture as Apollo Lake.
One of our readers has spotted a benchmark on the SiSoftware Official Live Ranker for the new Celeron N4000, a two-core CPU with a 1.1 GHz base speed. The results are hard to confidently compare against previous Apollo Lake processors since the benchmark shows the CPU running at the base frequency. However, the results are higher for the N4000 than the older Celeron N3350 running at higher reported frequencies, so it would be reasonable to assume that the frequency indicated for the new Gemini Lake chip was an error.
Based on the benchmark we can see that there appear to be significant improvements in specific areas, such as arithmetic (51 to 64 percent) and cryptography (48 percent). This increase indicates that there have been changes to the design of the CPU, possibly involving ALU (Arithmetic Logic Units). Other measured areas have close to the 10 percent level of improvement that we've come to expect from Intel processors from one generation to the next.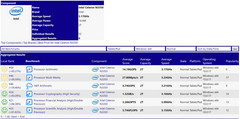 I grew up in a family surrounded by technology, starting with my father loading up games for me on a Commodore 64, and later on a 486. In the late 90's and early 00's I started learning how to tinker with Windows, while also playing around with Linux distributions, both of which gave me an interest for learning how to make software do what you want it to do, and modifying settings that aren't normally user accessible. After this I started building my own computers, and tearing laptops apart, which gave me an insight into hardware and how it works in a complete system. Now keeping up with the latest in hardware and software news is a passion of mine.