Samsung's Galaxy S20 to come in 4G as standard, 5G optional except for the S20 Ultra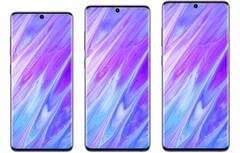 Samsung will not be fitting 5G radios as standard to its forthcoming Galaxy S20 range of devices. The move follows Qualcomm's decision not to integrate a 5G modem into the design of its Snapdragon 865 chip. The only device in the S20 range to pick up 5G as standard will be the higher end Galaxy S20 Ultra.
Samsung's forthcoming flagship the Galaxy S20 will not come with 5G cellular connectivity as standard, as many had thought. Instead, Samsung the regular 6.2-inch Galaxy S20, and larger 6.7-inch Galaxy S20+ will each also be sold separately in 5G variants. The only model that will ship with 5G standard is the largest of the three core models, the 6.9-inch Galaxy S20 Ultra. The news comes via reliable leakster Max Weinbach of XDA Developers.
Samsung's move follows Qualcomm's decision to design its flagship 2020 chipset, the Snapdragon 865, without an integrated modem. This came as something of a surprise, particularly has its new 2020 flagship mid-range chipset, the Snapdragon 765 comes with a 5G modem built in. The decision has allowed manufacturers to split their high-end product lines with 4G LTE and/or 5G cellular connectivity as Samsung has.
The reality is that 5G networks are still in their infancy, so it makes sense for Samsung to keep their flagship models as affordable as possible while also giving customers the option to pay a small premium for 5G connectivity either to future proof their investment or to connect to a 5G network in their area should it be available. It will, however, leave some customers in something of a dilemma unless they opt for the S20 Ultra where Qualcomm's X55 5G modem is fitted as standard.