Samsung Galaxy A7 (2017) gets its Bluetooth certification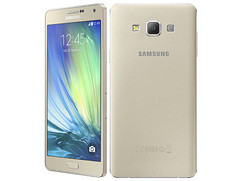 The new Galaxy A7 has been in the rumor mill for a while, but now its launch is closer than ever. The 5.5-inch handset has just received its Bluetooth certification, so it should arrive just in time for the holiday shopping season.
Samsung Galaxy A7 has been around for a while, and now the time has arrived for a refresh of this mid-ranger. Although this updated Android handset has been in the rumor mill for a while, its recent arrival at the Bluetooth certification authority shows that its launch is imminent.
Back in early 2015, the Samsung Galaxy A7 arrived with a 5.5-inch display, a Qualcomm Snapdragon 615 or Exynos 5430 Octa processor, as well as Android 4.4.4 KitKat. More than a year later, an updated variant offered the Exynos 7580 Octa processor and came loaded with Android 5.1.1 Lollipop. Now, the upcoming variant is expected to have a 5.5-inch full HD Super AMOLED display, a Samsung Exynos 7780 Octa processor, 3 GB RAM, 32 GB internal storage, dual-SIM support, and maybe even IP68-certified water resistance.
Unfortunately, rumors also claim that the updated Galaxy A7 would not launch with Nougat, running Marshmallow out of the box instead. However, all these specs should be taken with a grain of salt for now, since the Bluetooth SIG entry only revealed Bluetooth 4.2 connectivity and nothing else. We will get back to the Galaxy A7 (2017) as soon as we hear anything new, so stay tuned.