Roadmap details Apple M2 Extreme SoC with 48 CPU cores and up to 128 GPU cores together with new M2-based MacBook Air, MacBook Pro, Mac Pro, and 7K Pro Display XDR ↺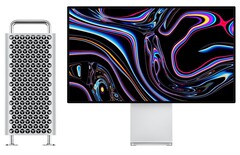 The key takeaways from Apple's March 8 event were that the M1 Ultra would be last of the M1 chips and that a Mac Pro with Apple silicon is definitely in the offing. This actually opens up to some speculation as to what could Apple's next moves be. Bloomberg's Mark Gurman seems to have zeroed in on a few possibilities including thoughts on what could be the future of Apple silicon and Mac lineup.
According to Gurman, Apple is working on a new Mac Pro that could offer double the performance of the M1 Ultra with up to 40 CPU cores and 128 GPU cores. This implies that Apple may offer the Mac Pro in M1 Ultra as well as dual-M1 Ultra variants. However, there's also the possibility that Apple is waiting to finalize the M2 chips before debuting them on the Mac Pro. Gurman gives possible configurations of the M2 SoC as follows:
M2: 8 CPU cores and 9/10 GPU cores
M2 Pro: 12 CPU Cores and 16 GPU cores
M2 Max: 12 CPU cores and 32 GPU cores
M2 Ultra: 24 CPU cores and 48/64 GPU cores
M2 Extreme: 48 CPU cores and 96/128 GPU cores
Waiting till the M2 silicon is ready probably would make more sense for Apple as at least a few Macs based on M2 are expected to launch between later this year and the next. These include the MacBook Air, Mac Mini, 13-inch MacBook Pro and the 24-inch iMac. Essentially, this would mean that Apple will finally complete the transition to custom silicon by the end of 2023.
Gurman also notes that an update to the Pro XDR display is also in the works with up to a 7K resolution and a built-in A-series chip. It is likely that Apple will launch the 7K Pro XDR Display alongside the upcoming Mac Pro.
Overall, the Apple M2 lineup looks to be as follows across Pro and Consumer offerings:
Pro:
MacBook Pro (14 inch and 16 inch) with an M2 Pro and M2 Max
iMac Pro with an M2 Pro and M2 Max
Mac Studio with an M2 Max and M2 Ultra
Mac Pro with an M2 Ultra and M2 Extreme
Apple Pro Display 7K
Consumer:
MacBook Air with an M2
MacBook Pro (13 inch) with an M2
Mac mini with an M2 and an M2 Pro version to replace the Intel model
iMac with an M2
Apple Studio Display
Buy the 2021 14-inch Apple MacBook Pro with M1 Pro SoC on Amazon
Though a cell and molecular biologist by training, I have been drawn towards computers from a very young age ever since I got my first PC in 1998. My passion for technology grew quite exponentially with the times, and it has been an incredible experience from being a much solicited source for tech advice and troubleshooting among family and friends to joining Notebookcheck in 2017 as a professional tech journalist. Now, I am a Lead Editor at Notebookcheck covering news and reviews encompassing a wide gamut of the technology landscape for Indian and global audiences. When I am not hunting for the next big story or taking complex measurements for reviews, you can find me unwinding to a nice read, listening to some soulful music, or trying out a new game.