Review Sony Vaio VGN-P21Z Mini-Notebook
Pocket Size.
An ultra-compact and light notebook as a permanent chaperone, perpetual access to internet, never again computer-free time? Sony also makes their contribution to make this lifestyle reality come true with its VGN-P series in an eight inch format and hopes that they will attract a wide range of potential buyers with their stylistic mini-devices. We are taking a closer look at the white Sony Vaio VGN-P21Z in the following review.
Sony offers their currently smallest and lightest notebook for the ultra-mobile field within the Vaio VGN-P series. As it is typical for Sony, much importance is attached to the appearance so that, independent of the specific model, a completely styled, recognizable and very attractive presentation is ensured. As to the insides, the manufacturer sets completely on Intel-technologies. At the moment, all VGN-P models are based on the Intel System Controller Hub US15W (SCH US15W), have two gigabytes RAM, an integrated Intel GMA 500 graphic chip set and an Intel Atom Z5x0 processor. The P21Z is equipped concretely with an Intel Atom Z520 Processor, while the P29VN, for example, uses a higher clocked Intel Atom Z530.
Interestingly, Sony relies on the resource-consuming Windows Vista operating system in most of their VGN-P models, while many other netbook competitors work with Windows XP or even with Linux derivates. The only exception is the VGN-P21S, which sets on Windows XP. Further model differences are found in relation to system mass storage configuration and software equipment.
Case
Small, thin, compact and fairly light is how the Sony Vaio VGN-21Z presents itself in its 8 inch form factor. It is available in different color variations. Currently in Europe: green (Emerald Green), red, (Garnet Red), black (Onyx Black) and white (Crystal White), as our test candidate. Aside from the customizability through color options, it also becomes obvious at first sight that Sony has put the main focus on an attractive design and wants to thrust the mini-laptop from a pure object of utility more in the direction of a lifestyle object.
Despite high-gloss surfaces on the display lid, display frame and the bottom side, the white variation proves to be fairly tolerant towards visible fingerprints and smudge. Also the display executed in the "edge-to-edge-design" continues in a high-gloss finish, merely the base unit's upper side and the keyboard unit use a slightly roughened, silvery surface, which appeals to touch very nicely.
There's nothing to be criticized about the stability, torsional stiffness and pressure resistance. The battery, fortunately, sits tight in the case. However, on the back edge where the battery and the upper side of the base unit meet, there is a somewhat larger gap, so that the base unit above the keyboard minimally yields downwards under pressure. The display lid lets itself be twisted to some extent with moderate force, though. Its back side also yields under point pressure, whereas image distortions on the activated display become obvious.
Even though very free-moving, which makes a one-handed adjusting of the opening angle possible without further ado, the sufficiently sized hinges have an easy job with the small display. They allow any desired position and after altering the opening angle merely a slight flapping is noticeable. The opening angle is limited to a maximum of 145 degrees through the mounted implementation, which shouldn't lead to restrictions when using most applications.
A transport latch has probably been omitted due to the rather tight space, but maybe also in favor of the overall design. If a certain opening angle is exceeded, it is automatically retracted; but it opens slightly when it is held with the display downwards against the base unit. It is therefore advisable to transport the notebook separately in a protective case.
Connectivity
Frugal, that is how the Sony Vaio-VGN-P21Z's connectivity can be circumscribed. There are merely a total of 2 USB-2.0 ports, a connection for headphones but no microphone socket, a connection for a Kensington lock and for a port replicator, a MemoryStick reader, an SD card reader and of course a power socket to be found directly on the case. Speaking of port replicators: One such is included in the scope of delivery, but only has two ports: VGA for connecting an external monitor and a RJ-45 for an Ethernet-connection (LAN).
The port arrangement is by and large alright in view of the form factor. The back side has to be kept free from interfaces due to the opening angle. The battery also practically takes up the whole available space there. On the left and right back side you find the more permanent occupied ports.
The Sony Vaio VGN-P21Z presents itself generous in respect to communication connectivity. Wireless transmission is complemented via the port replicator. A Marvell Yukon 88E8057 PCI-E Gigabit Ethernet Controller (10/100/1000MBit) is implemented here, which provides for fast LAN access, the according infrastructure assumed.
As for wireless, the VGN-P21Z has an Atheros AR928X Wireless Network Adapter (bgn), which also supports standard-n. Bluetooth version 2.1+EDR and an Everywair Wireless WAN module with up to 7.2 MB/s (HSDPA/HSUPA, UMTS, EDGE and GPRS) are also onboard. In order to really be able to use the latter, you need a contract with a service provider and a SIM card, which finds its place on the notebooks bottom side in the battery compartment
A 0.3 MP Motion-Eye WebCam as standard is also a part of the team. With this, you can record moving images at a maximum resolution of 640x480 pixels (VGA).
As to the operating system, Windows Vista Home Premium 32-Bit, including service pack 1, has been preinstalled. Recovery data carriers aren't included in the scope of delivery. Hence, the first step should be to create this with the according, preinstalled Sony Recovery utility, so that you have it just in case. At that matter, the mini-notebook doesn't have an optical drive, hence you are dependent on an external solution. It's too bad that the utility can't generate a bootable recovery USB stick straightaway.
A downgrade to Windows XP is, according to the manufacturer's site, also possible. With the serial number specification you receive (uncertified) access to the according drivers.
Another interesting feature is the quick access to internet, music and data over Sony's own XMB (Xross Media Bar) instant-on operating system. For this, you merely need to press the key with the cross, beside the touchpad buttons on the right, when the notebook is deactivated. The same key (key S1) takes over muting per default in the booted Windows Vista, but can operate a user-defined function just as the hotkey (key S2) beside it, which is standardly responsible for the window layout.
Input Devices
The keyboard uses the whole available width. The keys are, in favor of a single key layout and hence a somewhat larger key gap, rather small with a breadth of 13 millimeters and a height of 12 millimeters - but for a notebook of its size still common-sized. Even if the keyboard generally has a standard layout, the right shift key proves to be a bit small for an ad hoc accurate touch typing. Unfortunately, in the beginning you strike the arrow-up key directly on the right of it instead. Fortunately, the enter key has been executed two-rowed.
There is nothing to be criticized in regards to the type feel. Contrarily, the keyboard works surprisingly quiet and smooth, and also with a sufficient palpable feedback.
Sony only offers one trackpoint as a mouse substitute in the VGN-P21Z, which requires a short accommodation period, but allows for a precise mouse cursor control afterwards. The accommodating keys also serve their purpose perfectly.
Display
The 8 inch X-black LC-display with LED technology built into the Sony Vaio VGN-P21Z shows a somewhat unusual UWXGA resolution of 1600x768 pixels and is therefore particularly wide. Placing two windows beside one another isn't a problem due to this; but, depending on the application, a frequent vertical scrolling can't always be spared. You can have a divided opinion about having such a high resolution in such a small screen. After all, the script is really very minute. However, it is generally better to have a high resolution available and perhaps setting a larger font size, than to completely forego of a better overview and image quality.
Due to the LED background light, the maximum brightness of 223 cd/m2 (measured in the center upper section) as well as the average brightness of 210.9 cd/m2 is very useable. The illumination of 91% due to the overall minor brightness reduction towards the sides is also excellent.
In our opinion, the strongly reflective display surface barely seems target group suitable, as it merely delivers useable results in interiors as the main interface to the user. The high brightness provides a clearly visible display content outdoors, but because this is permanently over-layered by irritating reflections, it requires great effort to visually separate the intrinsic content from these on a long term. Hence, really working mobile or the use as a permanent work device is unfortunately ruled out.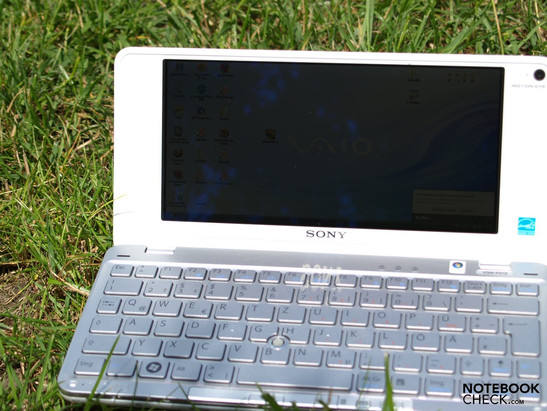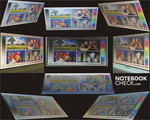 The low contrast ratio of 131:1 is not very convincing, either. The colors are still presented rather saturated, but black appears subjectively more gray because of the fairly high black value of 1.70 cd/m2.
At least the viewing angles move on a level common to the category and allow for the recognition of an undistorted image content to the greatest possible extent on the horizontal axis for quite a time. In opposition to this, distortions like intervening or strongly drained colors set in early on the vertical plane. This shouldn't have a negative effect on most common-class applications.
Performance
The Vaio VGN-p21Z based on the Intel System Controller Hub US15W steps somewhat out of line in regards to the commonly used hardware equipment in netbooks. The majority of the netbooks tested until now have been equipped with an Intel Atom N270 or N280. Principally, the SCH US15W with Intel Atom processors is validated for the Z5xx series. Actually, these were developed more for "embedded computing". The advantage of this solution is found less in the field of efficiency as in the low power consumption (merely 5 TDP) and quiet operating because it can be utilized without a fan.
The Vaio VGN-P21Z is configured with an Intel Atom Z520 processor (512K Cache, 1.33 GHz, 533 MHz FSB). This is a single core processor with a maximum Thermal Design Power (TDP) of 2 Watts - unsurprisingly performance wasn't the main focus. The fact that the CPU is the weakest component of this system can also easily be read in the Windows Vista Performance Index.
The chip set also brings another implemented graphic chip set with it, an Intel GMA 500, which is, as expected, not designed for 3D intensive applications and also doesn't support DirectX 10.
The overall system is sufficiently fitted with two gigabytes RAM. At the same time, this is also the maximum supported RAM capacity.
The system memory also has a part in the overall performance. The notebook is well-equipped with an HDD from Toshiba. The given Toshiba MK8025GAL might not have loads of memory space but it has useable performance data with an average transfer rate of 28.8 MB/s and an access time of 22.4 ms.
It becomes generally clear: The system is orientated for internet applications and simple office tasks. It could also come to slightly longer waiting periods when loading programs. You therefore shouldn't expect too much from the P21Z.
System information Sony Vaio VGN-P21Z
PCMark 05 Standard

916 points

Help
3DMark 2001SE Standard

1148 points
3DMark 03 Standard

418 points
3DMark 05 Standard

126 points

Help
Windows Vista Experience Index
Settings
Value
CPU

2.7 Points

RAM

4.2 Points

GPU

5.9 Points

GPU Games

3 Points

HDD

4.4 Points
Toshiba MK8025GAL
Transfer Rate Minimum: 16.5 MB/s
Transfer Rate Maximum: 36.4 MB/s
Transfer Rate Average: 29.4 MB/s
Emissions
System Noise
The Vaio VGN-P21Z has it easy in this category without a fan and hard disk. It's practically silent. Only when listening more closely, with the ear directly on the device, there is a sonorous hum audible.
Temperature
Unfortunately, it doesn't look quite as good with the temperature performance. A maximum of 39.9 degrees Celsius were measured on the upper side in the left sector, this is still an average of 36.6 degrees Celsius. The bottom side heats up even more and reaches a maximum of a remarkable 45 degrees Celsius and an average value of 39.3 degrees Celsius. The problem zone is found once again in the front left section.
(±)
The average temperature for the upper side under maximal load is 36.5 °C / 98 F, compared to the average of 29.8 °C / 86 F for the devices in the class Netbook.
(+)
The maximum temperature on the upper side is 39.9 °C / 104 F, compared to the average of 33.1 °C / 92 F, ranging from 21.6 to 53.2 °C for the class Netbook.
(±)
The bottom heats up to a maximum of 45 °C / 113 F, compared to the average of 36.6 °C / 98 F
(±)
The palmrests and touchpad can get very hot to the touch with a maximum of 39.4 °C / 102.9 F.
(-)
The average temperature of the palmrest area of similar devices was 29.3 °C / 84.7 F (-10.1 °C / -18.2 F).
Loudspeakers
Both stereo loudspeakers are found left and right over the keyboard. They are strongly treble-prone and lack bass accordingly. It's advisable to use alternate sound source for everything that exceeds background sound. The audio-out via the 3.5 mm headphone socket creates a significant improvement with the according connected headset and shows no irregularities.
Battery Life
Our model is equipped with a light 3 cell battery, which has a capacity of 16 Wh. Alternatively there is also a 4200mAh battery (with a voltage of 7.4 volts) for other VGN-P models available for 129.00 Euros (incl. VAT). A larger battery for a longer runtime would also be interesting for the P21Z.
In the test we reach a very impressive runtime of up to 262 minutes (4 hours and 22 minutes) despite the low capacity, but which had to be measured manually as the BatteryEater tests terminated unexpectedly. A low maximum power consumption comes to bear here and provides for the relatively good result.
The Sony Vaio VGN-P21Z still achieves 108 minutes under Windows Vista Home Premium 32-Bit despite the small battery in practical WLAN mode. The corresponding evaluation under the known as XMB (Xross Media Bar) instant-on operating system delivers 105 minutes, which is generally an equal battery runtime.
Power Consumption
Off / Standby

0 / 0 Watt

Idle

5.2 / 2.6 / 9 Watt

Load

8.9 / 9.2 Watt



Verdict
Sony supports all those who can't imagine a life without a mini-computer as a constant chaperone with the Vaio VGN-P21Z. Compact, light and perpetual internet access with WLAN and WWAN, you might attract quite a bit of attention on the go, and in certain circumstances, with this stylistic mini-device
The reflective display and the fairly short battery life of the included 3 cell battery will dampen the pleasure of working with this device outdoors and on the road, though.
And one more thing: The design focus was concentrated on energy-efficiency. In return, there is no fan necessary and the device runs practically silent. However, you have to make curtailments in consideration of performance. For undemanding office tasks and internet applications this is completely sufficient also with Windows Vista, even if you have to count with longer waiting periods every now and again.
The P21Z principally proves to be an attractive companion on tour in all situations despite a somewhat restricted mobility - that is if you really want that.