Test Sony Vaio VGN-SR41M/S Notebook
13.3 Inches of Elegance.
Sony fully pits on Intel's Centrino-2 platform in the Vaio VGN-SR41M/S. It is pretty well-equipped not only for standard applications, but also for light work in the area of multimedia with an Intel Core 2 Duo T6400, an ATI Mobility Radeon HD 4570 graphics card, and 4GB of system memory. The following review tells you how the tested pre-serial model meets our requirements.
Sony fully pits on the Intel Centrino-2 platform for the Vaio VGN-SR series. Apart from some pre-configured models, there are also some configurable models in this series - but only the SR45X is currently listed as a configurable model in Germany. Altogether, the models of the SR-series with their compact size of 13.3", relatively light weight, and docking port have been designed for the ultra-mobile segment.
Please note that the tested model is a pre-serial model, deviations from the retail model are thus possible.
Case
A silver display lid with a shiny, chrome-colored Vaio-logo-inlay and a black base unit - that is how the VGN-SR41M/S presents itself on the outside. Silver as the primary choice of colors is consequently continued after opening it, apart from the black keys. The sides also present themselves in black as part of the base unit. The matt surfaces feel pleasant (corresponding to the choice of material) by and large, despite the massive use of plastic components.
In principle, there is nothing wrong with the base unit's stability and torsional stiffness. But a weak spot in the area of the optical drive does not remain hidden on this device either. The right palm rest and the area below the drive yields under pressure, and a creaking can occasionally be heard.
The base unit's slight wedge profile stands out in a good way, the keys are thus slightly slanted forward, which contributes to an ergonomic hand posture.
Both the display's frame, as well as the lid, presented themselves as less resistant to pressure, and with less torsional stiffness. The frame is especially slightly yielding to pressure and also causes image distortions on the switched on display.
The cylindric hinges elegantly integrate themselves into the overall picture of the Sony Vaio VGN-SR41M/S. The operating status is visualized on the left through round LEDs, while the power supply is directly across from it, on the right. The notebook can albeit only be opened to a maximum of 135° due to the opening mechanism's design.
Apart from that, the hinges have a walk-over with the relatively small display. Any desired position is safely supported, and there is hardly any possible luffing after adjusting the opening angle.
They apparently passed on a transport lock in favor of the design. Thus, one should guard against (sharp) items that could end up in the clearance between display and keyboard during transport - all the more as the closed notebook somewhat opens itself when held top-down at the base unit.
Connectivity
One can call the connectivity a bit scanty by all means with only two USB-2.0 ports. Both are located on the far side of the right lateral edge. Behind them, the RJ-11 (modem) and RJ-45 (LAN) ports have been hidden behind a plastic cover. The optical drive is on the near end of the right side. Altogether, a feasible arrangement of ports for righthanders emerges.
Left-handers might really struggle with the Vaio VGN-SR41M/S, depending on the occupation of the ports along the left side. VGA- and HDMI-ports are located rather in the middle or towards the front. A FireWire-port (IEEE 1394), called i.Link by Sony, an ExpressCard/54 bay, and a Kensington Lock are available on the near end of the left side. Jacks for headphones and microphones are offered in the rear area, behind the vent's opening. An SD-card reader (SD, SDHC, MMC) and a MemoryStick-slot (supporting MemorySticks of the standard and Duo-format) have been placed along the front edge. The rear side has to remain free from ports due to the opening mechanism and the battery's location. A docking port is fortunately found on the bottom side, this means that the notebook can be integrated into (and removed from) an existing working environment without the bothersome connection and disconnection of cables. The docking station (model no. VGPPRSR1.CE), which is available for the lush sum of 199 Euros, extends the ports' range by 3 USB-2.0 ports, VGA, DVI-D, and a Gigabit ethernet connection.
Apart from the Marvell Yukon 88E8040 PCI-E (10/100MBit) ethernet adapter included per default, which provides fast wired transfer with a corresponding infrastructure, there is also an Intel Wireless WiFi Link 5100 AGN for speedy wireless communication with draft-n support featured in the test model. Bluetooth can also be used for wireless communication with other devices.
While no UMTS module is offered, one can in turn also establish an internet connection via the integrated modem - an option that is possibly still available in areas with poor communications infrastructure.
One better upgrades to wireless broadband internet via ExpressCard/54 if needed, since the USB-modems of most manufacturers would occupy both USB-2.0 ports.
Together with the integrated MotionEye CCD webcam, one is thus pretty well-equipped for mobile internet -telephony.
As far as the operating system is concerned, Vista Home Premium 32-bit is pre-installed. A downgrade to Windows XP is possible according to the manufacturer, corresponding drivers are made available for download on their website when supplying the serial number (unverified). Despite the 4 Gigabyte of physical system memory, altogether only about 3 Gigabyte are available for applications with the pre-installed 32-bit Windows Vista operating system, since a portion is reserved for the operating system itself, and for installed devices (Memory Mapped IO).
Unfortunately, no recovery DVD is included in the cardbord box, so the user has to rely on an intact recovery partition in order to be able to reset the system to factory settings in the worst case. One best first creates recovery volumes through the pre-installed Sony Recovery Assistant, otherwise one is out of luck if the system does not boot at all anymore, or if the recovery partition is destroyed in the course of a hard disk crash...
Sony offers 24 months of guarantee ex factory for the Sony Vaio VGN-SR41M/S in Europe, except for the United Kingdom and Ireland. The period of standard guarantee only amounts to 12 months there. Extensions of guarantee are not yet available, but are supposed to cost 99 Euros for an extra year respectively 179 Euros for two extra years.
Input Devices
Keyboard
The VGN-SR41M/S' single-key keyboard practically makes use of the whole available width of the notebook. Fortunately, it shows a standard layout with a two-line enter-key. The somewhat shortened (15 millimeters side-length) alpha-numeric keys convey a pleasant feeling while typing, with a relatively long stroke and a distinct feedback. The keys' unobtrusive clicking sound could also appeal to us by all means.
Touch pad
The somewhat subajacent touch pad comes off pleasingly large with a width of 82 millimeters and a height of 49 millimeters. Its sliding properties are excellent, precise control of the mouse pointer is thus possible without problems. The according buttons remained without any conspicuities in the test, they respond flawlessly across their whole surface, and do not work too noisily either - although not supersilent either.
Additional keys
The Sony Vaio VGN-SR41M/S offers some additional keys above the keyboard, apart from the wireless-switch located on the front edge. The mode-key enables switching between different modes of operation, the setting-key opens the VAIO-Mode-Switch-window for changing the keys' allocation, and for changing the background assigned to a mode of operation. The five quick start keys in between are thus all configurable by the user.
Display
The 13.3" X-Black LC-display with LED background-lighting used in our test model showed a very good maximum brightness of 247 cd/m² in the brightness test, measured in the center area of the display. We can record 234 cd/m² on average. The illumination also reaches a good value of 86% due to the only slight decrease of brightness towards the edges.
A low black level (meaning the brightness of black, measured at maximum display brightness in the center part) of 0.54 cd/m², and the high maximum brightness result in an excellent contrast ratio of 457:1. The colors seem vibrant subjectively as well.
Using this notebook outdoors is still somewhat imagineable due to the high brightness, but the reflecting display surface is not ideal for outdoor-usage nevertheless. Reflections occur especially under direct sunlight, in combination with dark backgrounds on the display, or with disadvantageous viewing angles, and make working more tedious than necessary. Reflecting displays are not really recommendable as permanent working places either.
The stability of the viewing angle comes off rather limited in the vertical field of vision, as common on many notebook displays. Even small deviations from the ideal, perpendicular angle of viewing result in noticeable changes of the image. The display comes off much more tolerant in the horizontal area and permits angular angles of viewing as well. However, increased unwanted reflections then occur here as well.
Performance
Our SR41M/S, based on the Centrino-2 platform, was equipped with a Core 2 Duo processor of the Penryn generation (a CPU manufactured in 45nm process). It is a Core 2 Duo T6400, to be more specific, with 800MHz frontside bus, 2048MB L2-Cache, a clock rate of 2000MHz, and a TDP (Thermal Design Power) of 35 watt.
Since most benchmarks by Futuremark caused problems on this pre-serial device and did not deliver results, we cannot give a PCMark05 (among others) result for assessing the application performance. As far as the computing performance is concerned, it is about as good as the Dell Adamo (1793 seconds, a notebook of a comparable size with a SU9400 processor) at 1695 seconds for 32 million computed digits by PI, with the help of the program SuperPI.
A Mobility Radeon HD 4570 by ATI is deployed for computing graphics in the Sony Vaio VGN-SR41M/S, which is a beginners' middle-class graphics card for notebooks, suited for DirectX 10.1. This independent graphics card with 64-bit memory bus is available with different memory equipments: GDDR3, DDR2, or DDR3. The test model's one was equipped with GDDR3 memory. GDDR memory with 32-bit bus is faster than DDR memory with 16-bit bus, but also significantly more expensive in purchasing.

Please note: the GPU-Z screenshot erroneously states a 128-bit memory bus for this graphics card, but it is a 64-bit connection according to the manufacturer. This can also be confirmed through Lavalys' Everest Report.

The Everest Report is consistent with the manufacturer's statements, while GPU-Z erroneously specifies a 128-Bit memory bus.
Due to problems at the execution of the 3DMark benchmarks, there are no further 3DMark-results available, apart from 3DMark01 and 3DMark03. The Sony Vaio VGN-SR41M/S reached 2974 CB-GFX in the OpenGL test of the Cinebench R10 benchmark. This corresponds to an increase of about 14% compared to the Acer Aspire 5536G's result of 2598 CB-GFX in the Shading test. The deployment of GDDR3 memory on the ATI Mobility Radeon HD4570 in the Sony Vaio VGNSR41M/S thus turns to account compared to the deployment of DDR2 memory in the Acer Aspire 5536G.
One can generally say that the ATI Mobility Radeon HD4570 is a beginners' multimedia graphics card, the performance in practice, subjectively seen, is analogous. Light multimedia tasks are no problem for the Sony Vaio SR41M/S, but one should not make overly high demands.
The equipped system memory and mass storage of course also contribute to the total system's performance. The system offers a total capacity of 4GB system memory, which at the same time is also the maximum RAM-capacity which a 32-bit operating system can address. Only about 3GB of that are at the applications' disposal under Windows Vista Home Premium, the rest is reserved for the operating system itself, and for Memory Mapped IO. If one should be thinking about upgrading to up to 8 Gigabyte RAM, a 64-bit operating system is definitely necessary. Upgrading is a breeze thanks to easily accessible maintenance-openings. However, at least one of the used 2GB-modules will become obsolete.
A voluminous 320GB Seagate hard disk (ST9320320AS) is deployed as mass storage. The volume in the 2.5" format runs at a speed of 5400 rpm and shows access times of 23 milliseconds, and transfer rates of up to 67.1 MB/sec in the HDTune benchmalk test. It thus places in the middle of the field of comparable 5400-models.
System information Sony Vaio VGN-SR41M/S
3DMark 2001SE Standard

17594 points
3DMark 03 Standard

10878 points

Help
Seagate Momentus 5400.5 ST9320320AS
Transfer Rate Minimum: 29.2 MB/s
Transfer Rate Maximum: 67.1 MB/s
Transfer Rate Average: 52.4 MB/s
We would like to keep it short as far as gaming performance is concerned, since the Sony Vaio VGN-SR41M/S is rather to be classified to the field of beginners' multimedia, it is definitely no genuine gaming bolid. Older titles, such as Doom, are no problem for the Sony Vaio VGN-SR41M/S, even at high resolution and high level of detail. The featured Mobility Radeon HD 4570 also has a walk-over in World of Warcraft (WoW), at least up to a resolution of 1024x768 pixels and medium settings. After all, an average of 52 frames per second could be recorded here via Fraps.
In conclusion one can say that even newer, 3-D demanding games can at least be played halfway appealing at low resolution and with a low level of detail - with the exception of GTA IV, which makes very high demands and partly even loads genuine gaming notebooks up to the limits.
System Noise
The fan shows itself as constantly present in the Sony Vaio VGN-SR41M/S, it is well audible with an average of 33.3 dB(A) even in idle mode respectively under low load. One notices a periodical swelling and subsiding under load, with maximum values between 38.8 dB(A) and 40.2 dB(A). However, the fan does not come off as really bothersome otherwise, due to the low-frequency noise characteristics.
The optical drive's data transfer is also relatively noisy, 46.3 dB(A) were measured. Fortunately, it is somewhat more unobtrusive during DVD-playback with 36.3 dB(A).
Noise Level
Idle

32.8 / 33.3 / 0 dB(A)

DVD

36.3 / 46.3 dB(A)

Load

38.4 / 40.2 dB(A)




30 dB
silent

40 dB(A)
audible

50 dB(A)
loud

min:

, med:

, max:

(15 cm distance)
Temperature
The heating keeps within bounds, normal body temperature is barely surpassed with a maximum of 37.4 degrees Celsius on the top side above the vent. In any case, the palm rests remain pleasantly cold even under load, whereat the left one heats up a bit more than the right one.
The heating also keeps within bounds at the bottom side. However, the maximum value of 42.2 degrees Celsius can be a bit unpleasant for constant usage under load in one's lap. This value was also measured in the segment below the vent opening.
(±)
The average temperature for the upper side under maximal load is 33.3 °C / 92 F, compared to the average of 30.7 °C / 87 F for the devices in the class Subnotebook.
(+)
The maximum temperature on the upper side is 37.4 °C / 99 F, compared to the average of 35.8 °C / 96 F, ranging from 21.4 to 59 °C for the class Subnotebook.
(±)
The bottom heats up to a maximum of 42.2 °C / 108 F, compared to the average of 39.5 °C / 103 F
(+)
The palmrests and touchpad are cooler than skin temperature with a maximum of 31.9 °C / 89.4 F and are therefore cool to the touch.
(-)
The average temperature of the palmrest area of similar devices was 28.3 °C / 82.9 F (-3.6 °C / -6.5 F).
Loudspeakers
The two loudspeakers, integrated above the keyboard, offer an appealing sound by all means, although it is somewhat low on basses. It is in any case sufficient for multimedia applications, and the maximum volume is also alright. The quality of sound via 3.5 mm headphone jack remains without distinctive features as well.
Battery Life
This device's battery life (it is equipped with a 54 Wh, 4800maH lithium-ion battery) is appealing, but not outstanding. We manually measured this notebook's battery life due to problems with the BatteryEater tests, which did not deliver any results. The Sony Vaio VGN-SR41M/S reaches a maximum of 294 minutes (almost 5 hours, after all) while reading texts on minimal brightness, with maximal energy-saving mechanisms, and switched-off wireless modules.
In a practical WLAN-test, meaning during surfing the internet via wireless LAN, at good brightness (level 5 of 8), and with energy-saver profile, one can work for 253 minutes without interruptions on battery - meaning 4 hours and 13 minutes. This about complies with the manufacturer's statement of 4.5 hours.
We can record "balanced" 155 minutes (ca. two and a half hours) for DVD-playback, also with adjusted brightness (level 5 of 8), and energy-saver profile.
A 9-cell battery with 7200 mAh (11. Volt) is soon supposed to be available for around 249 Euros in Germany as well. This should make possible improving the battery life by up to 50%.
Power Consumption
Off / Standby

0.2 / 0.4 Watt

Idle

11.6 / 17.1 / 19.2 Watt

Load

/ 59 Watt



Verdict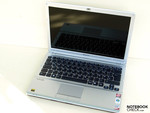 The Sony Vaio VGN-SR41M/S also shows a Sony-typical thourougly styled exterior, which is definitely relatable through hallmarks typical of the brand. The compact 13.3" notebook in a silver look albeit also convinces through a good built quality and on the whole stable case.
An Intel Core 2 Duo T6400 Processor, based on a Centrino-2 platform, and an independent ATI Mobility Radeon HD 4570 graphics card work on the inside. A comprehensive package with very good office performance, which is also well-equipped for light multimedia tasks, emerges together with four Gigabyte of system memory and a large 320 Gigabyte hard disk.
The display features excellent brightness and good illumination, making outdoor usage (even though in a limited way) possible. At disadvantageous incidence of light, or at disadvantageous viewing angles, one albeit has to take into account increasing reflections, due to the reflecting surface.
It is not only the reflecting screen that limits mobile usage needlessly though, the battery life also does definitely not last for a whole work day far from a power outlet.
A big pro of this notebook is the communication equipment, which also offers a RJ-11 modem jack, next to a RJ-45 jack (ethernet), and Bluetooth. UMTS can best be upgraded via ExpressCard/54 if needed. The notebook is also ready for video telephony via internet in connection with the integrated webcam.
All in all, the Sony Vaio VGN-SR41M/S presents itself as a compact and relatively light-weight notebook, also for mobile usage, yet with limitations. The elegant design will definitely attract attention when on the move.