Update | Razer CEO will livestream a mysterious "new flagship lineup" on October 10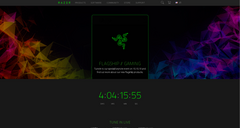 Could a Razer desktop be in the works? The Singaporean-American OEM is set to announce a line of brand new products in San Jose next week. Hopefully, more concrete details about the Razer Phone 2 and its unique docking station will be on show.
Razer is counting down the days until a curious press conference scheduled to take place on October 10 at 6:30 PM PST. According to the official website, the keynote will be held in San Jose, California where Razer CEO Min-Liang Tan will unveil "new flagship products" to the audience.
Fortunately for those who may not be able to make it to the live conference, Razer will livestream the event on Twitch for fans to watch.
The manufacturer is deliberately being coy about what will be in store. If we are to guess, users can expect announcements related to the upcoming Razer Phone 2, Project Linda docking station, or the Blade laptop series. Razer also offers a wide range of smaller accessories outside of smartphones and laptops, but hyping up a live press conference for a pair of headphones would be unlikely.
Catch the link below for the eventual livestream next week.
(October 10, 2018 update: Looks like Amazon Italy lifted the curtains a bit early. According to GSMArena, the official product listing for the Razer Phone 2 was live for just a few moments before being pulled down. Nevertheless, tune in for the livestream in just a few hours for the official reveal and potentially other surprise announcements.)
(October 11, 2018 update: The livestream has concluded with the official reveal of the Razer Phone 2 and brand new configurations and colors of the Blade 15 gaming laptop.)