Nova Launcher beta gets "Dynamic Badges" feature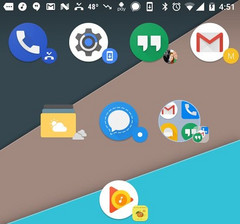 This Android launcher app takes icon badges to a whole new level, focusing on images instead of numbers. This feature rolls out to Nova Launcher 5.1's first beta and can be already taken for a spin, but numeric counts remain available as an option as well.
Nova Launcher is one of those apps that keep getting updated on a regular basis for more than just security or compatibility with new Android versions, but also to keep up with the latest interface design approaches. This time, the app receives support for improved icon badges via a feature simply called dynamic badges.
According to Kevin Barry, "Instead of numbers we focused on images. Dynamic Counts pulls images from notifications to badge your apps. For example contact images from messaging apps, album art from music apps, app icons from the Play Store."
He also reveals that numeric counts are still available via TeslaUnread. Dynamic Badges can be activated via Nova Settings > Notification Badges > Badge Type > Dynamic and require Android 4.3 or a more recent version.
This week, Nova Launcher beta 5.1 received two updates, both released on March 23. While the first one adds Dynamic Badges, the second only comes with minor fixes.