Nikon D6: Setting new standards for autofocus performance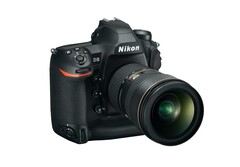 Even after the introduction of the Z series, Nikon continues to improve its SLR cameras. The company's latest attempt is the D6, a camera that it promises sets new performance standards. The Nikon D6 comes with a range of features that should please professional photographers, too.
After a teaser last September, Nikon has finally unveiled the D6, an SLR that apparently outperforms the autofocus capabilities of all previous Nikon cameras. The D6 supports 105 focus points and an AF sensor that is said to be 1.6x denser than the one in its predecessor. Apparently, the D6 can keep an object in focus even when it moves out of the range of a focus point.
At the heart of the camera is a full-frame CMOS sensor, which resolves at 20.8 MP. The sensor can shoot at up to 14 FPS full autofocus and exposure tracking, or 10.5 FPS in a noiseless mode that uses an electronic shutter. The camera can shoot 4K videos too, stills of which can be saved individually.
Additionally, the D6 supports Wi-Fi, USB Type-C and has two CFExpress card slots. The camera can even simultaneously save two JPEGs of different sizes and quality settings. The D6 also includes fourteen configurable buttons, which are all housed in a magnesium alloy chassis.
The Nikon D6 will go on sale in April for a starting price of US$6,500. Please keep in mind that this only includes the camera body, though.