New Microsoft advert claims the Surface Pro 7 is a better option than the MacBook Pro 13, including for gaming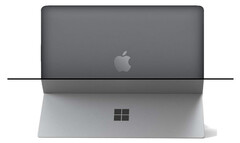 Views, thoughts, and opinions expressed in the text belong solely to the author.
The reasoning is mostly around the Surface's dual tablet/laptop nature and the use of Windows, which makes sense since this was the niche the Surface Pro line popularised after the release of Windows 8. We can't deny that the inclusion of a touch screen and pen input adds value to how users interact with the device. There is also logic in the argument that the Surface Pro 7 can "run your favourite apps" since the x86 processor and Windows OS gives access to a vast library of modern and legacy software.

Where the advert veers off into murky territory is the claim that it's a much better gaming device, presumably because of the massive catalogue of Windows games. This is also where the point Microsoft is making starts to fall apart too. Yes, the Surface Pro 7 has enough power to play older or lighter games, but its CPU and GPU performance is outclassed by the ARM-powered MacBook Pro 13 against which Microsoft is comparing it.

This gets us wondering whether Microsoft is even making the right comparison. The recent price drop shows that Microsoft is focusing on selling the Surface Pro 7 right now, but can they rightly compare a laptop to a 2-in-1 and then penalise the laptop for not having tablet features? We can't help but think that Microsoft is avoiding the iPad Air 4 or iPad Pro 2020 with Magic Keyboard because they share characteristics such as the touchscreen and pen/pencil input. The iPad is also an arguably better tablet gaming experience, as long as you aren't trying to play the latest console/PC releases. The Surface Pro 7 and the iPad Pro are both creators devices, so Microsoft would have only had the operating system to promote as the main point of difference.

Perhaps the Surface Laptop 3 would have been a more appropriate comparison. The boxes are still ticked for touch screen and pen input, even if the awkward angle makes the pen useless for anything other than quick mark-up. Maybe Microsoft just needs to move some excess Surface Pro 7 stock before the announcement of the Surface Pro 8.
Views, thoughts, and opinions expressed in the text belong solely to the author.