NVIDIA to bring Resizable BAR support to all RTX 30 Founders Edition cards by 'late March'; AIBs will issue VBIOS updates too, but initial performance benefits will be minimal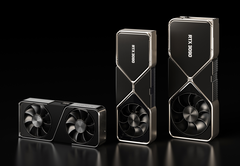 As we reported last week, Resizable BAR is now available to try on the GeForce RTX 3060 and RTX 30 series laptops. Currently, the company has enabled the functionality, comparable to AMD's Smart Access Memory (SAM), for the following eight games:
Assassin's Creed Valhalla
Battlefield V
Borderlands 3
Forza Horizon 4
Gears 5
Metro Exodus
Red Dead Redemption 2
Watch Dogs: Legion
NVIDIA claims that support for additional games will arrive before the end of the month, albeit without specifying which ones or how many it plans to support. However, NVIDIA notes that Resizable BAR reduces performance in some games, so it will be 'pre-testing... and using game profiles' before it enables the feature. Unsurprisingly, the company only plans to allow Resizable BAR where it has a 'positive performance impact'.
According to NVIDIA, Resizable BAR should improve performance 'from a few percent, up to 10%'. Independent benchmarks from the likes of ComputerBase and PC Games Hardware, aggregated by 3DCenter, show an 0.8% performance gain in 1080p, as it stands. By comparison, ComputerBase found that enabling SAM on a Radeon RX 6800 XT can improve performance by 5.6% on average at the same resolution. Ultimately, NVIDIA will tweak Resizable BAR, but AMD is the winner with SAM, currently.
We should see Resizable BAR support reach the rest of the RTX 30 series desktop product stack before the end of March, too. You must have a motherboard that supports Resizable BAR though, details of which you can find here. According to a blog post, NVIDIA will distribute VBIOS updates for its RTX 30 series Founders Edition cards in 'late March'. The company will issue a new Game Ready Driver too, but it will be up to NVIDIA board partners to release VBIOS updates for their custom cards.
Prior to writing and translating for Notebookcheck, I worked for various companies including Apple and Neowin. I have a BA in International History and Politics from the University of Leeds, which I have since converted to a Law Degree. Happy to chat on Twitter or Notebookchat.