NVIDIA Shield TV update brings 120 Hz, voice chat, and more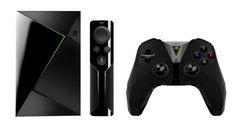 It's common for Android TV consoles to receive just a few OTA updates before being forgotten. The Shield TV, however, is now up to its 20th update with no signs of slowing down. Nvidia has added 120 Hz output, voice chat, and more UI tweaks to its aging Android TV product to make it an even better streaming box.
The three-year old Tegra X1 can be considered ancient in the mobile world and yet it continues to chug along by being the heart of both the Nvidia Shield TV and the Nintendo Switch. The graphics maker is still squeezing the SoC for all its worth with a brand new update for the Shield TV.
Some key features as part of the Software Experience 7.1 OTA update include:
Voice Chat now supported in games
Shield Mobile TV App can now simulate mice and keyboards
Improved support for mice and keyboards including shortcuts
Google Assistant can now accept up to two languages at a time
New design for Netflix app
New voice commands for YouTube
Support for 120 Hz displays
Bugs and stability fixes
Additionally, the 7.1 update brings support for streaming Shadow of the Tomb Raider via GeForce Now. Owners can broadcast to Twitch, record, and take screenshots with the Nvidia Share feature as well.
The update begins rolling out today for all models of both Shield TV generations. See our review on the Shield TV for more information about the versatile machine.
Source(s)