Miner exclusive cards like the Sapphire GPRO X080 and X060 aren't a solution: they're part of the global GPU supply problem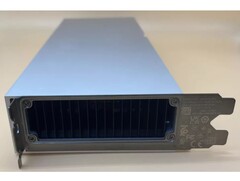 Views, thoughts, and opinions expressed in the text belong solely to the author.
Spanish outlet El Chapuzas Informatico recently discovered that Sapphire has been selling large quantities of RDNA2 GPUs to crypto mining farms, off retail channels. Two of these parts, the Sapphire GPRO X080 and GPRO X060, are based on the Navi 22 and Navi 23 XL GPU architectures respectively. These are the same GPUs powering the RX 6600 and RX 6700 XT respectively.
But whilst the RX 6700 XT sells for over US$1300 due to crippling supply issues, Sapphire sells the GPRO X080, in bulk, to crypto farmers at a mere €750. Prices for consumer Ampere and RDNA2 graphics have remained sky high for over a year now.
A 3DCenter report indicates that RDNA2 cards, including ones built on the Navi 22 GPU as the X080, are regularly selling for 200 percent over MSRP. The global silicon shortage is, indeed, a key factor, but it's not the only reason for consumer GPU prices remaining stubbornly high. Scalpers with automated tools and crypto miners looking to turn a profit from ETH mining have both played key roles. But while OEMs, manufacturers, and retailers have introduced steps to counter scalping, their stance towards cryptocurrency mining is a lot less clear cut.
NVIDIA's attempt to tamp down on mining with LHR (low hashrate) cards appears half-hearted at best, with miners finding ways to easily defeat hash limiting. The launch of NVIDIA's crypto-exclusive CMP lineup raised further questions: When consumer GPU supply is limited as it is, how would diverting GPUs to create crypto-exclusive cards that can't even run games help the consumer market?
Sapphire's GPRO X080 and GPRO X060 cards appear to be doing much the same as the CMP cards, but impact the supply of consumer RDNA2 cards instead. What's problematic here is that, unlike NVIDIA, Sapphire hasn't even been transparent about creating and selling crypto-exclusive cards to miners. The GPRO X080 and X060 never received official launch announcements, and they aren't even mentioned on Sapphire's website. According to El Chapuzas Informatico's source, the only way to get your hands on one of these cards is by placing a bulk order through private channels.
Consumers are forced to pay double or even triple the MSRP to get their hands on a ray-tracing capable card. In this environment, diverting chips to crypto farms on the low-down might seem like a good business call in the short-term. However, the long-term implications on consumer trust and confidence are less clear. At a time when PC gamers are forced to pay four-figure prices for "midrange" graphics cards, Sapphire appears to be making the supply situation even worse, not better.
Check out the AMD Radeon RX 6800 XT here on Amazon.
Views, thoughts, and opinions expressed in the text belong solely to the author.
I've had a passion for PC gaming since 1996, when I watched my dad score frags in Quake as a 1 year-old. I've gone on to become a Penguin-published author and tech journalist. Apart from working as an editor at Notebookcheck, I write for outlets including TechSpot and Gamingbolt. I'm the Director of Content at Flying V Group, one of the top 5 digital marketing agencies in Orange County. When I'm not traveling the world, gathering stories for my next book, you can find me tinkering with my PC.