Microsoft will let developers recompile x86-apps for better performance on Snapdragon chips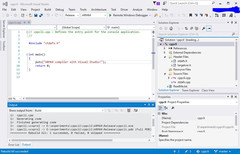 Developers of x86 applications for Windows 10 will be able to bypass ARM emulation and speed up these apps on future Snapdragon equipped Cellular PCs if they recompile them for ARM64.
Microsoft revealed last week, that it will support Windows 10 to run on future Qualcomm Snapdragon processors starting with the Snapdragon 835-SOC that is set to be released in early 2017. A future Windows 10 update will integrate an ARM-emulation layer that will allow Windows 10 and regular x86 applications like Adobe Photoshop or Microsoft Office to run on Cellular PCs that will be based on Snapdragon chips and offer LTE connectivity and a smaller footprint without the need for extensive cooling.
Last weekend we heard new reports that Microsoft plans to also integrate an ARM compiler into a future version of Visual Studio for Windows, that will allow developers of x86 applications to bypass the emulation, thereby increasing performance for the user. One twitter user and security expert going by the twitter handle @never_released already used a preview version of Visual Studio to recompile a few open source programs for the ARM64 architecture, for instance a popular app for admins called putty. The XDA developers forum added a new forum for ARM Windows apps where you can already find the recompiled version of putty and a bunch of other apps.