MSI introduces fanless Cubi 3 Silent S mini PCs with gen 7 Kaby Lake-U CPUs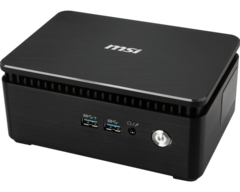 The gen 7 Kaby Lake-U CPU powering the new Cubi 3 Silent S fanless mini PCs seem to be restricted to the 15 W TDP versions. They integrate the HD Graphics iGPU, and are coupled with as much as 32 GB of DDR4-2133 RAM. Storage solutions include SSD, HDD, or hybrid, and MSI provides extensive connectivity.
MSI has just refreshed the Cubi 3 mini PC line with more powerful CPUs and a fanless design. These models are built to meet the ever growing needs of the business and commercial environments. The company did not mention the exact names of the gen 7 ULV CPUs, but MSI did specify that the CPUs integrate the HD Graphics iGPUs, so the SoCs in question seem to be the 15 W TDP ones with HD Graphics 620 iGPUs.

The Cubi 3 Silent S mini PCs measure only 6.28 x 2.74 x 4.34 inches, weighs in at ~ 3 lbs, and comes with silver and black color options. MSI provides 8 GB, 16 GB and 32 GB DDR 4-2133 variants, and the storage options can be either SSD-only, HDD-only or hybrid. The SSDs can be either M.2 SATA, normal SATA or PCI-e NVMe models. Also included are Wi-Fi and LAN controllers, and the 65W PSU comes as an external solution.

MSI outfitted the new Cubi Silent S mini PCs with many connectors. Here is a complete list:
• front panel: 2x USB 3.1 Type-A and audio jack
• side panel: 2x USB 2.0
• rear panel: 2x USB 3.1 Type-A, HDMI 2.0, DisplayPort 1.2, 2x Ethernet jacks, Ethernet to COM, and a single COM

Pricing and availability info is not yet known, but the new Silent S line should cost more than the US$510 previous gen Cubi 2 Silent models.