MIT and Stanford present a 3-D chip that integrates CPU and RAM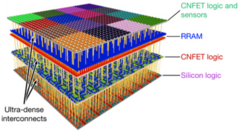 MIT and Stanford have developed a 3-D chip that integrates both CPU and RAM using carbon nanotubes to interconnect stacked-up logic layers and RAM layers. The design has great implications for overcoming communication bottlenecks.
Working For Notebookcheck
Are you a techie who knows how to write? Then join our Team!
Currently wanted:
German-English-Translator - Details here

Stanford University and MIT joined forces to develop the first 3-D chip that integrates RAM into a CPU chip built with carbon nanotubes. This technology can be used to overcome bottlenecks in communication between logic circuits and memory blocks.

The 3-D chip is detailed in a paper published in the well-known journal Nature. MIT/Stanford claim that the 3-D chip fundamentally changes the way transistors are fabricated. Present day transistors are made of silicon, but the new ones proposed by MIT/Stanford are made of graphene nanotubes. These make up the logic layer (CNFET layer) inside the 3-D chip. The other layer consists of a new kind of memory called "resistive random-access memory" (RRAM), which works by altering the resistance of a solid dielectric material. According to H.-S. Phillip Wong, co-author of the research, "RRAM can be denser, faster, and more energy-efficient compared to DRAM."

The logic and memory layers are alternating, and in-between each of these layers there are "ultradense" wires that act as communication lanes. Even though the carbon nanotube chip designed by MIT/Stanford is very slow compared to current multi-core CPUs, project lead Max Shulaker claims that more complex designs are just a matter of time. Still, the 3-D chip integrates "over 1 million RRAM cells and 2 million carbon nanotube field-effect transistors, making the most complex nanoelectronic system ever made with emerging nanotechnologies."