LineageOS 19: Google's Pixel 2 and 3 other iconic old phones getting Android 12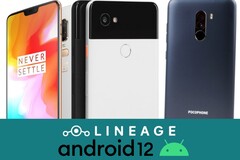 The choices and comments made on this list belong solely to the author.
1. OnePlus 6 (and 6T)
The OnePlus 6 and 6T were launched when OnePlus was still one of very few manufacturers making flagship killers. Both the OnePlus 6 and 6T were pretty well received by users and reviewers — aside from the display notches, that is — and featured premium build quality, great performance, and a no-frills Android experience thanks to OxygenOS. OnePlus also just recently ceased support for the OnePlus 6 series after three major Android updates, leaving them both on Android 11 — actually not a bad run, all things considered.
If you're happy with the camera performance of the OnePlus 6 or 6T, and one of them is still filling your pocket, there are very few reasons why you shouldn't use LineageOS to upgrade it to Android 12 and keep on keeping on (OnePlus 6 ROM and guide; OnePlus 6T ROM and guide).
OnePlus recently made a return to its old flagship-killing ways with the OnePlus Nord 2, which is available on Amazon.
3. Google Pixel 2 and 2 XL
Between the reasonable price, premium materials, and unique design, the Google Pixel 2 and 2 XL were fan favourites among Pixel users. The strong camera and SoC performance made the phone stick around in the pockets of those of us who are not eager to upgrade unnecessarily.
Unfortunately, Google cut off support for the Pixel 2 series before Android 12 launched. That means if you want the fancy new Material Design tweaks or privacy bells and whistles, LineageOS and the custom ROM community are your only options. You can download the official LineageOS 19.1 builds and follow the installation guides for the Pixel 2 (guide) and 2XL (guide) on LineageOS.org.

4. Pocophone F1 (Poco F1)
Xiaomi launched the Pocophone F1 in 2018 at an extraordinarily low price, pitching the device as another flagship killer. While the results were mixed — with the F1 suffering in many camera tests — the device did feature a Qualcomm Snapdragon 845 SoC and 6 or 8 GB of RAM, meaning performance should hold up to almost all daily tasks except for some heavy GPU loads.
This iconic device was one of the first in the midrange wars that led to the rise of brilliant devices like the Samsung Galaxy S10e and more recently the Galaxy S21 FE, not to mention everything that has come out of Poco in recent years.
The LineageOS 19.1 official ROM for the Pocophone F1 is available for download from the LineageOS site — as before, please follow the official guide if you aren't familiar with rooting and flashing.
XDA Developers has a full list of devices with official LineageOS 19 Android 12 ROMs that you can peruse if you are interested in diving into the world of non-stock Android. Beware of unofficial ROMs — though they may not cause any problems at all, you are putting your trust entirely in the developer of that ROM, and you can never know who to trust. Before you take any drastic measures, it's worth checking an Android 12 update tracker to make sure your manufacturer hasn't released or planned an update already.
My interest in tech started in high school, rooting and flashing my Motorola Defy, but I really fell down the rabbit hole when I realised I could overclock the i7 930 in my Gigabyte pre-built PC. This tinkering addiction eventually lead me to study product design in university. I think tech should improve the lives of the people using it, no matter the field. I like to read and write about laptops, smartphones, software and trends in technology.