Lenovo S5 Pro debuts in China, dual camera with 2X optical zoom in tow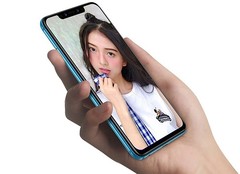 With a 6.2-inch full HD+ display and a Qualcomm Snapdragon 636 processor, the Lenovo S5 Pro also brings two dual camera setups (one on each side) in the sub-US$200 price range, something that no major brand managed to do so far. Sadly, this handset might remain exclusively available in China.
A dual camera setup on each side, a generous display, a mid-range processor, 6 GB of memory for less than the equivalent of US$200 coming in the shape of a handset by a major brand might look like an impossible dream, but this is exactly what Lenovo managed to achieve with the new S5 Pro.
The aforementioned handset will go on sale in China tomorrow and, in case you were wondering, its list of specs and features includes the following:
Processor: Qualcomm Snapdragon 636
Memory/Storage: 6 GB; 64 GB/128 GB internal, with microSD support up to 256 GB
Display: 6.2-inch with 2,246 x 1,080 pixels (18.7:9 aspect ratio)
Cameras: main camera with 12 MP + 20 MP and F/1.8 + F/2.6 aperture lens, 2X optical zoom, autofocus, HDR and a 20MP + 8MP selfie shooter, both with AI support
Operating system: ZUI 5.0 (based on Android 8.1 Oreo)
Battery: 3,500 mAh, 15 W fast charge support
In addition to the above, there is a rear-mounted fingerprint sensor, a 3.5 mm headphone jack, infrared face ID support, and it all comes for the equivalent of less than US$190 (CN¥1,298, to be accurate).
Although the images produced by this handset are far from what a flagship can deliver nowadays, Lenovo's new phone will surely find its place in the crowded Chinese market. It only remains to see if the S5 Pro will also be launched in other markets.