Leak shows Moto E5 Plus with dual camera setup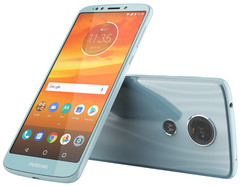 A leaked render of the Moto E5 Plus smartphone has revealed an interesting detail: The device is likely to come with a dual camera system. The E5 range is expected to be an update of Motorola's E4 range, which was released in June 2017. The render shows a number of differences from the predecessor. Details in regard to price and release date have yet to be confirmed.
The leaked render of the Moto E5 Plus shows a dual lens on the rear of the device. The bezels of the phone appear to be quite narrow and the display seems to be slimmer than that of its predecessor, the Motorola E4 Plus.
Another obvious design difference is the Motorola logo at the back. On the E4 Plus the logo served no purpose apart from branding; however, the render for the new device shows the logo on the rear to be slightly raised. Could this mean that there will be a function assigned to this logo? There has been speculation that this could be a fingerprint sensor.
The overall look of the E5 Plus is considerably different from the E4 Plus, with even the name on the front of the device changing from "moto" to "motorola". No other rumored details about this future release from the Lenovo-owned company are currently available. The new smartphone is likely to feature a Qualcomm Snapdragon or MediaTek SoC (the E4 Plus sported a MediaTek MT6737 SoC) and may have an 18:9 (2:1) display ratio.
Both the Moto E4 and Moto E4 Plus received good reviews from Notebookcheck.