Latest Cybertruck videos show most complete version yet of Tesla's steel pickup, obvious flaws and oddities persist while production date looms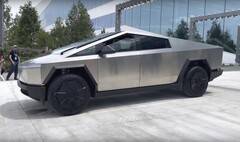 Numerous new videos of the Tesla Cybertruck have been posted online after the auto maker's most recent shareholder meeting at the Texas Gigafactory. The videos, shared by InsideEVs, reveal a Cybertruck that seems almost ready for production. Barring a few panel alignment issues, the Cybertruck looks rather sharp — despite a rounder front bumper — in its near-final form.
One video, shared by Farzad Mesbahi on YouTube, shows the headlight bar spanning the entire width of the front fascia between the top of where the grille would be and the hood, while the indicator lights and beams are cleverly hidden between the would-be-grille space and the bottom section of the bumper.
Comparing this latest, near-production prototype to the images on Tesla's site, it seems as though the bottom bumper and skid plate are more pronounced in the latest revision, with more ventilation and a pair of small protrusions that seem to act as forward-facing mudguards.
The door handles also appear to have been relocated to the black trim next to the mirrors rather than in the stainless steel door panel, while the charging port is also cleverly hidden in the black plastic wheel well trim over the left rear wheel. While the prototype does have side-view mirrors, there are also rear-facing cameras hidden in the front wheel well trim, potentially allowing buyers to remove the mirrors for a sleeker look where allowed. Overall, the vehicle seems to be a more practical interpretation of the initial design.
The completeness of the prototype doesn't mean the vehicle is without flaws that stem both from its prototype nature and its inherent design. For starters, the large panel that replaces a traditional grille looks slightly misaligned at the edges, and the top of the tailgate misses the top of the bed by a fair margin.
Aside from prototype woes, the comically large gigawiper has made another appearance, indicating once again that this will be the production equipment, and the diminutive rear windscreen is bound to present visibility problems, especially when the bed cover is closed. The hydraulic suspension setup is visible within the plastic-clad wheel arches which house wheels shod in Tesla's patented black wheel covers that should improve aerodynamics.
Buy a 48 Amp Tesla Wall Connector Level 2 Electric Vehicle Charger on Amazon.com.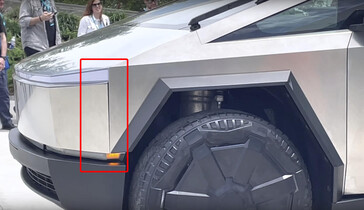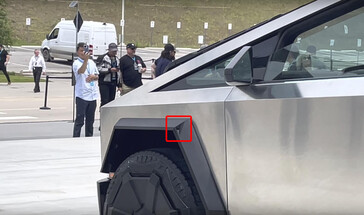 My interest in tech started in high school, rooting and flashing my Motorola Defy, but I really fell down the rabbit hole when I realised I could overclock the i7 930 in my Gigabyte pre-built PC. This tinkering addiction eventually lead me to study product design in university. I think tech should improve the lives of the people using it, no matter the field. I like to read and write about laptops, smartphones, software and trends in technology.