LandingZone Docking Station for 15-inch MacBook Pro Review
Working For Notebookcheck
Are you a techie who knows how to write? Then join our Team! English native speakers welcome!
News Writer - Details here

Introduction
The folks at LandingZone must have been delighted when Apple released its revamped MacBook Pro models featuring only USB Type-C ports. Customer frustration with the lack of port options presented the perfect opportunity to make a dock designed to bring back the connectivity that Apple took away – hence the LandingZone Dock for the 15-inch MacBook Pro with Touch Bar, which we have on-hand for testing.
Technical Specifications
The LandingZone dock stands out from the MacBook Pro dongle/dock crowd in offering a whopping 16 ports, which are comprised of the following:
3 USB 3.1 Type-C Ports (Data Only / No Video)
2 USB 3.1 Type-A Ports (Data Only)
1 USB 3.1 Type-A Port (Data & 1.5A High Speed Charging)
USB Type-C Passthrough Port
HDMI Port (3840 x 2160 @ 30Hz)
Mini DisplayPort & HDMI Port (3840 x 2160 @ 60Hz) – Can Not Be Used Simultaneously
Gigabit Ethernet Port
SD Card Slot
Micro SD Card Slot
Two-way Audio Port
Built-in Kensington Security Slot compatible with all the Kensington Laptop Locks (sold separately) to secure the MacBook
3-Color LED Status Indicator Light
96W LandingZone Power Adapter to charge the MacBook Pro with Touch Bar and power the docking station
Design and Functionality
As you can see from the photos, it is not a small dock. However, it is a lot lighter than you might expect at 14.4 ounces. The silver MacBook-like metallic paint finish gives you the impression that it is made of aluminium and might be quite weighty, but as it turns out, it is actually made from plastic and is quite light. The plastic won't depress when pressed, but it is not so stiff that it can withstand being easily twisted by hand. That said, this shouldn't prove to be a problem under normal use.
The technical functionality of the dock itself is a little confusing, and like many things involving USB Type-C, requires some additional explanation: USB Type-C ports, as many will be aware, are very flexible. They can support many different types of devices or connections, provided that you either have compatible peripherals or the right dongle (or the right docking station). The USB Type-C ports on the new generation Apple MacBook Pro range support USB 3.1 Gen 2 at 10 Gbps and Thunderbolt 3 at 40 Gbps. Thus, it seems a bit strange that this dock from LandingZone is not Thunderbolt-enabled.
If it is disappointing to learn that the LandingZone dock doesn't support Thunderbolt 3, it is perhaps even more disappointing to learn at the outset that it only supports USB 3.1 Type-C Gen 1 at 5Gbps. On the plus side, however, its 96W power adapter not only powers the dock and its ports, but will also keep your MacBook Pro charged.

Top 10 Laptops
Multimedia, Budget Multimedia, Gaming, Budget Gaming, Lightweight Gaming, Business, Budget Office, Workstation, Subnotebooks, Ultrabooks, Chromebooks
under 300 USD/Euros, under 500 USD/Euros, 1,000 USD/Euros, for University Students, Best Displays
Top 10 Smartphones
Smartphones, Phablets, ≤6-inch, Camera Smartphones
Bandwidth Distribution
With support for only USB 3.1 Gen 1, the LandingZone dock actually halves the available USB bandwidth from the USB 3.1 Gen 2 Type-C ports of the MacBook Pro. This necessitates the employment of the "Time Sharing" method should any of its channels start to hit the 5Gbps ceiling. In other words, data streams will be cued until sufficient bandwidth is available. However, as the dock actually taps into three of the USB Type-C ports on the 15-inch MacBook Pro, it still delivers a theoretical peak bandwidth of up to 15Gbps across its 16 various ports.
Naturally, the way the three MacBook Pro USB Type-C ports have been distributed across the dock's 16 ports is a very important consideration. To this extent, LandingZone tells us that the HDMI 1 and Mini DisplayPort are connected directly to one of the USB Type-C ports on the left side of the MacBook. The other ports on the rear of the LandingZone (HDMI, USB 3.1 Type-C Gen 1 x3, USB 3.1 Type-A Gen 1) are connected to the second USB Type-C port on the left side of the MacBook. Lastly, a third USB Type-C port on the MacBook is used for powering the card readers while also serving as a USB-C passthrough port. The fourth and last USB Type-C port on the MacBook is left free for the user to connect Thunderbolt 3 peripherals.
Video output
The interesting thing about the HDMI setup with the LandingZone dock is that even Apple's own first-party USB Type-C multiport dongle with HDMI port only supports 4K output at 30Hz. Yet one of the two HDMI ports on the LandingZone dock purports to offer 4K support at 60Hz. In our testing, we were able to confirm that this is indeed the case. However, given the bandwidth requirements to drive a monitor at 4K 60Hz, don't expect to be able to do any intensive computing work in that context because of the docks reliance on USB 3.1 Gen 1 tech.
In fact, although the HDMI 2 port is limited to outputting at 30Hz we ran into system slow down issues when trying to run the two external 4K monitors simultaneously with HDMI 1 set to refresh at 60Hz. We spoke with LandingZone who acknowledged that this is problem that users may encounter under such extreme scenarios. Setting our 4K monitor to match the 30Hz output of the second HDMI output was, however, sustainable, and something that would be suited for doing everyday computing and productivity tasks.
Benchmarks
On the macOS side of our MacBook Pro, we timed the transfer of a 4GB video file on a 7,200 EPM HDD over the MacBook Pro's native USB Type-C 3.1 Gen 2 port and then repeated the test on the dock's USB Type-C and Type-A ports to find no performance differences.
On the Windows Bootcamp side, we were able to confirm the performance that we experienced on the Mac side using the CrystalDiskMark 6.0.0 benchmark. As you can see from the shots below, the read and write speeds using our high-speed Corsair GTX USB 3.0 flash drive were essentially identical whether running through the native MacBook USB Type-C ports or through the LandingZone dock.

We also tested the LandingZone dock using the HD Tune benchmark, which is capable of recording fluctuations in bandwidth when making a data transfer from an external drive without an external monitor connected and with an external monitor connected while streaming a video. From the shots below, you can see that the LandingZone dock is able to support simultaneous data transfer from the Corsair flash drive while streaming 4K video from Netflix over an external monitor.
The final test that we ran was the WiFiPerf macOS total bandwidth benchmark (which is based on JPerf) designed to "stress test" the dock. In this test, we connected the MacBook Pro to a Dell XPS 13 over a Gigabit Ethernet connection transferring data at the maximum 1000 Mbps bitrate while also running a 4K video @30Hz on an external monitor. At the same time, we imported a large 4GB file simultaneously from two spinning hard drives over two of the USB Type-C ports and the same 4GB file from the USB Type-A ports using the high-speed Corsair GTX flash drive. As you can see from the results below, the LandingZone dock managed to handle the throughput because of the way it splits the bandwidth over multiple USB 3.1 Gen 1 Type-C ports.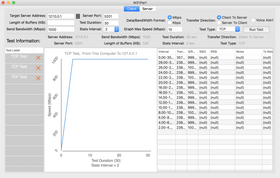 Conclusion
From an everyday user experience perspective, the LandingZone Dock works well. It can initially be a little fiddly to load your MacBook Pro into it, as you have to manually align the connectors, but once it is in place it props your MacBook Pro at an ergonomically sound angle for typing. It does a great job of moving all your cables to the back of your MacBook Pro and out of the way. It's a lot tidier than having Apple's own dongles hanging out either side of your MacBook to achieve similar results while incorporating a Kensington Lock.
However, there is no question that the lack of support for both Thunderbolt 3 and USB 3.1 Gen 2 is a major drawback of the LandingZone dock. It certainly hampers performance when two external 4K monitors, which it purports to support, are attached with system slowdowns evident during testing. Yes, it can be done, but you must switch the primary display to refresh at 30Hz, not 60Hz. And you certainly won't be playing demanding 3D games or running complex 3D applications while doing so. The 5Gbps bandwidth of USB 3.1 Gen 1 simply isn't going to cut it.
If you are running standard spinning hard drives, running dual 4K monitors set at 30Hz, and undertaking everyday Office-style productivity tasks, you will find the LandingZone dock to be quite useful. It will tidy up your office environment while bringing back the connectivity options that Apple stripped away when it launched the new-generation MacBook Pro models. It just isn't designed for heavy work flows or power users, despite what the high number of connectivity options might suggest.

Then, there is the US$299 price to consider. If it had been equipped with Thunderbolt 3, or even USB 3.1 Gen 2, then the case for purchasing one would be much easier. At that price, however, you will be able to find Thunderbolt 3 docks that start from as low as US$210, albeit with fewer connectivity options. Even the best Thunderbolt 3 options on the market like the Pluggable Thunderbolt 3 dock (US$250) and the OWC Thunderbolt 3 (US$300) don't support anywhere near as many connectivity options.
That leaves the LandingZone dock in a unique position. It definitely has a place, and its ability to tap into three of the MacBook Pros four USB Type-C ports gives it additional bandwidth, even with its USB 3.1 Gen 1 limitations. As it is, we think that it is a little overpriced for what it offers, but believe that it will still win over a number of customers for the sheer number of connectivity options it offers.