Kyocera announces Japan-exclusive washable smartphone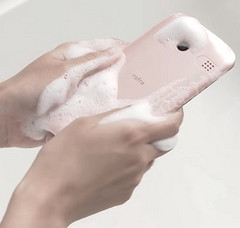 The rafre KYV40 smartphone will be available via KDDI Corporation and is the successor of the world's first "hand-soap-washable smartphone," namely DIGNO rafre. It comes with Nougat on board, as well as a hand gesture-operated cooking app.
Some of the products exclusively available on the Japanese market should hit other areas as well, and the washable phone is one of those products. Kyocera introduced the DIGNO rafre back in late 2015 "as the world's first hand-soap-washable smartphone," and now the time has come for its successor, known as rafre KYV40 for now.
The new rafre smartphone will hit the market exclusively via KDDI Corporation's subsidiary Okinawa Cellular Telephone Company. For now, some of its key specs are not public yet, but the press release reveals a few details, including Android 7.0 Nougat, the 5 MP and 13 MP cameras, 2 GB RAM, 16 GB internal storage and microSD slot, as well as a 3,000 mAh battery. This handset uses the AINOS image processing engine, featuring Phase Detection AF and Auto HDR capabilities.
The rafre KVY40 is scheduled to go on sale this March. The color options available are Clear White, Pale Pink, and Light Blue. Sadly, the price is not public at this stage.