Intel to repackage WiGig technology for VR headsets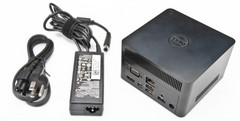 The super-short range and high bandwidth 802.11ad standard may be dead in the water for laptops and tablets, but it could be the answer to an untethered VR experience at home. Intel will stop producing WiGig chips for laptops in order to focus more on WiGig for VR.
Wireless Gigabit, or WiGig, established the 802.11ad standard years before 802.11ac became commonplace on most notebooks and smartphones. Unlike 802.11n or 802.11ac, however, WiGig-enabled devices would utilize the uncommon 60 GHz band for even faster transfer rates of up to 7 Gbps without necessarily interfering with the popular 2.4 GHz or 5 GHz bands. As promising as it may sound, Intel will purportedly stop all efforts in pushing 802.11ad onto mobile devices due to its slow adoption rate and limited applications.
Despite the clear performance advantages made possible by the 60 GHz band, 802.11ad is limited to very short ranges measured in single-digit meters and requires line-of-sight between connected devices. These strict drawbacks funneled the technology to certain docking stations and a very small number of notebooks that all failed to reach a wide audience. We tested one of the very first 802.11ad wireless docking stations back in 2013 and while we were impressed by its performance and low latency, the dock had to face a very specific direction towards the notebook and remain within ~5 meters at all times for reliable performance. The rise of more versatile alternatives like Thunderbolt 3, Miracast via Wi-Fi Direct, and Chromecast for simpler multimedia playback have all made 802.11ad even more of a niche product.
This isn't to say that Intel will abandon 802.11ad altogether as the manufacturer will instead repurpose the technology for VR headsets and mesh networks, according to Engadget. Retail VR headsets like the Vive are physically tethered to the PC, but the high bandwidth and low latency of 802.11ad could sever the wires and allow an even more immersive experience for the wearer. It would seem like the perfect application for 802.11ad, at least in theory. No official announcements have been made for when we can expect WiGig-enabled VR headsets to be in market beyond the initial press demos earlier in the year.
Working For Notebookcheck
Are you a techie who knows how to write? Then join our Team! Especially English native speakers welcome!
Currently wanted:
News and Editorial Editor - Details here