Huawei: Two bigger Matebooks planned for 2017?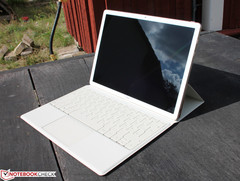 This year, Huawei launched its first PC, the Matebook. Next year, the Chinese company may plan to expand its PC portfolio. The rumors speak of two new models, although its unclear which form-factor these models will have - Convertible or Ultrabook.
It seems that the Matebook was a success for Huawei, at least in China, Huawei´s home market. According to the Taiwanese site Digitimes, Huawei plans to release two new mobile PCs in 2017. These would be focused on the Chinese market, as the Matebook likely didn´t do as well on Western markets.
Its not clear yet which form-factor these new PCs will have. Digitimes say that both new models are aimed at the high end market, exactly like the Matebook. However, they will be much bigger then the Matebook, as Huawei has 13,3" and 15,6" models planned – the Matebook had a 12" display. Also, these new bigger PCs are going to use the 15 W Core i CPUs, instead of the 4,5 W chips the Matebook uses.
If these claims are true, the question is if these will be Tablet-Notebook-2in1s, like the Matebook, or simply ordinary Ultrabooks. Both new Huawei PCs are planned for an early 2017 release.