HTC U Ultra Sapphire now up for pre-order in Taiwan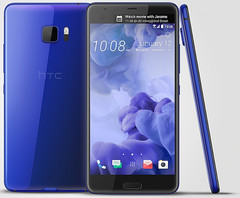 The HTC U Ultra Sapphire edition with 128 GB will hit Taiwan for around $922 USD, and shipments are expected to begin by the end of February. The regular U Ultra with 64 GB of storage, on the other hand, would carry a price tag of almost $750 USD.
As those interested in this handset probably know already, the HTC U Ultra with 64 GB internal storage has been listed on pre-order in the US, but shipments are only expected to begin in early March. On the other hand, the Sapphire edition with 128 GB is supposed to begin shipping earlier, but this will happen in Taiwan.
According to Android Community, the HTC U Ultra Sapphire edition will be sold in Taiwan for no less than NT$28,900 - roughly $922 USD. Those who want to spare some cash can grab the HTC U Ultra with 64 GB for around $749 USD. Those located in Taiwan can pre-order them both directly from HTC's online store.
The new HTC U Ultra has a generous 5.7-inch Quad HD display, supplemented by a 2.05-inch secondary display with 160X1,040 pixels. It uses the Qualcomm Snapdragon 821 processor, next to 4 GB RAM, a rich set of connectivity options, coming with Android 7.0 Nougat out of the box. Sadly, it has no 3.5 mm audio jack, and its price is quite high.