Google wraps up $1.1 billion deal for HTC talent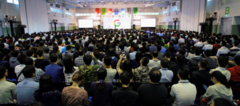 Google has officially welcomed the talent that it purchased from HTC for US$1.1 billion. The team from HTC has been behind the development of the Pixel and Pixel 2 smartphones and will continue to design and develop future Pixel devices.
Google has officially closed its deal US$1.1 partial acquisition deal with HTC. With it, Google picks up the bulk HTC's smartphone design and engineering talent responsible for many smartphone "firsts," including the first 3G smartphone in 2005, the first touch-centric phone in 2007, and the first all-metal unibody smartphone in 2013. The team is also responsible for the design and development of Google's Pixel and Pixel 2 smartphones.
The announcement was made by Google's SVP of Hardware, Rick Osterloh who had this to say:
Today, we start digging in with our new teammates, guided by the mission to create radically helpful experiences for people around the world, by combining the best of Google's AI, software and hardware…with the official close of this deal, we're expanding our footprint in the Asia Pacific region. Taiwan is a key innovation and engineering hub for Google, and Taipei will now become the largest Google engineering site in APAC.
When rumors of the Google and HTC tie-up first emerged, it was thought that Google would acquired HTC outright as it had previously, when it acquired Motorola. However, somewhat unexpectedly, the partial acquisition left HTC with a depleted team that has continued to deliver new flagship devices. However, it is likely that many of these devices were already in the pipeline. It remains to be seen whether the $1.1 billion cash injection HTC picks up from the deal will help its ailing smartphone business.