Google acquires Owlchemy Labs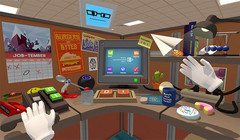 This six-year-old startup that joins Google is well known for its VR game Job Simulator, which has been a launch title for PlayStation VR, HTC Vive, and Oculus Touch. For now, Owlchemy plans to keep delivering VR content for multiple platforms.
Google has serious plans for the virtual reality market, and its latest corporate acquisition is here to prove it. The tech giant has just acquired Owlchemy Labs, a company that was born in 2010 and is based in Austin. Its list of VR titles includes Aaaaaculus!, Caaaaardboard!, and Job Simulator.
According to Google's official blog simply known as The Keyword, the two companies will "be working to create engaging, immersive games and developing new interaction models across many different platforms to continue bringing the best VR experiences to life."
For now, Owlchemy Labs says the company will continue to build VR content for various platforms. However, we believe that this might change in the long term. "Now, as we look to the future with Google by our side, we couldn't be happier. Our plan to build awesome things will continue forward stronger than ever," reads the company's blog.
The financial terms of the deal have not been disclosed, as it usually happens in such cases.