Google Project Ara modular device hits GFXBench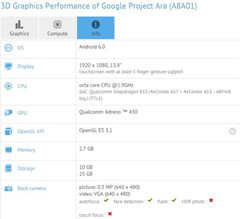 Although the result of this project should be a smartphone, the device spotted on GFXBench uses a 13.8-inch display and Android Marshmallow, but also a Snapdragon 810 processor and 3 GB RAM, so it might be a large screen tablet after all.
The notorious Project Ara by Google has been in the news for a long time, but it failed to deliver any product so far. However, it looks like the first Project Ara modular device could come out later this year - at least as long as no other delays occur. Unfortunately, the specs of the device spotted on GFXBench this week are quite strange and do not reveal much.
Google Project Ara A8A01 is most likely a prototype being used to test a smartphone platform with a large screen. Its specs include a Qualcomm Snapdragon 810 processor with Adreno 430 graphics, 3 GB RAM, 10 GB and 25 GB storage (probably the internal storage and a microSD slot, or maybe a basic internal storage and an additional internal storage module).
There is also a VGA camera on the back that appears to have flash, despite its very low resolution, as well as one 5 MP image snapper for selfies. The device allegedly features a 13.8-inch full HD display and the usual connectivity features, including WiFi, Bluetooth, GPS, and even NFC.
Since the Project Ara A8A01 also seems to feature a SIM card, it would not be a surprise to find out that this is the early prototype of a smartphone after all. We will keep an eye on this one, so stay tuned.