Ford F-150 Lightning reservation holders face massive US$30,000 dealer markup as demand for the electric truck outstrips supply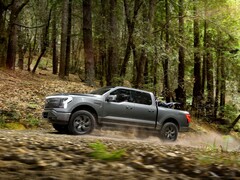 2022 is here, which means that the all-electric Ford F-150 Lightning will be officially released in the coming months. After 200,000 prospective EV buyers have already made a reservation for the all-electric pickup truck, dealerships are now scrambling to convert these reservations into orders, under one rather large caveat which may also be caused by the continuing global microchip shortage.
According to a report by Electrek, at least one Ford dealership in the United States has contacted F-150 Lightning reservation holders and informed them that an additional price adjustment of US$30,000 would be necessary in order to receive a unit from the first batches of Ford's new electric truck. Considering that pricing for the base model of the Ford F-150 Lightning starts at around US$40,000, a US$30,000 dealer markup appears to be nothing less but drastic. An additional non-refundable US$5,000 deposit is apparently also required to place an order for the electric pickup truck.
Customers who are not in a hurry only have to pay a US$10,000 price markup at this one specific Ford dealership in Virginia, but they could presumably wait a long time until their Ford F-150 Lightning is actually delivered. The Michigan-based automaker apparently only plans to produce 15,000 all-electric trucks in 2022, while this number will increase to 55,000 and 80,000 units in 2023 and 2024 respectively. It therefore seems likely that American truck drivers will have to pay prices way above MSRP for the Ford F-150 Lightning in the foreseeable future, unless some miraculous recovery from the chip shortage will result in healthier truck inventories before 2025.
Buy the Pulsar Plus Level 2 Electric Vehicle Smart Charger on Amazon
My fascination for technology goes back a long way to the Pentium II era. Modding, overclocking and treasuring computer hardware has since become an integral part of my life. As a student, I further developed a keen interest in mobile technologies that can make the stressful college life so much easier. After I fell in love with the creation of digital content while working in a marketing position, I now scour the web to bring you the most exciting topics in the world of tech. Outside the office, I'm particularly passionate about motorsports and mountain biking.