Deal-breaker alert: PS5 HDMI 2.1 bandwidth is capped at 32 Gbps, chroma subsampling is enforced on HDR games running in [email protected] Hz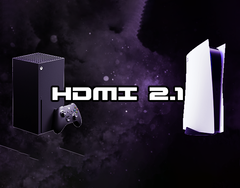 Now that "the rest of the world" is getting its hands on the Sony PS5, we are starting to see even more glitches, failures and bugs with the highly anticipated gaming console. Earlier today we were reporting on a bunch of problems encountered by users across the world, and it looks like the list of issues is expanding by the day. Remember the LG debacle with the HDMI 2.1 implementation limited to 40 Gbps bandwidth? Seemed like a deal-breaker for some users back then, since the PS5 and Xbox Series X were expected to feature full 48 Gbps HDMI 2.1 support. Meanwhile, the Xbox Series X launched with bandwidth limited to 40 Gbps, and just recently, users discovered that the Sony PS5 HDMI 2.1 support is capped to only 32 Gbps. Turns out the LG CX owners are safe after all.
Vincent Theo from HDTVTest demonstrates in his latest Youtube video how to check for the exact bandwidth of the HDMI 2.1 connection on the new PS5 consoles. Initially, users noticed that the PS5 video settings included a problematic description for the 4K HDR mode refresh frequencies, according to which the PS5 would lower the chroma resolution to YUV422 when outputting 120 Hz video signals. Theo went ahead and checked the Freesync hidden menu on his LG CX to verify these claims, and it turns out that the PS5 is using only a maximum bandwidth of 32 Gbps and it is indeed lowering the chroma resolution to 4:2:2 in 120 Hz mode due to the limited bandwidth. The Xbox Series X is clearly superior in this respect, as it manages to keep the chroma resolution to 4:4:4 thanks to the 40 Gbps bandwidth.
Is the 4:2:2 chroma subsampling really a deal-breaker? Most movies only support 4:2:2 or even 4:2:0 and the HDR ones that support 4:4:4 run at 24 Hz, hence the skewed color info will solely affect HDR games running at 120 Hz, but there are just a handful of such games for PS5 currently. We cannot say for certain that this is a hardware limitation. It might be a software limitation that can be corrected through a future update, but Sony needs to clarify this as soon as possible.
I first stepped into the wondrous IT&C world when I was around seven years old. I was instantly fascinated by computerized graphics, whether they were from games or 3D applications like 3D Max. I'm also an avid reader of science fiction, an astrophysics aficionado, and a crypto geek. I started writing PC-related articles for Softpedia and a few blogs back in 2006. I joined the Notebookcheck team in the summer of 2017 and am currently a senior tech writer mostly covering processor, GPU, and laptop news.