Corsair MP600 GS 2TB SSD in review: Fast SSD for laptops, desktop and mini PCs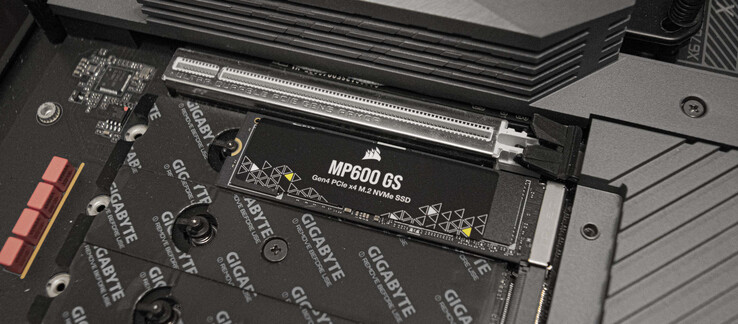 Corsair has been represented in the memory segment with the MP600 series for a few years now. There are many different models from Corsair under the MP600 product line. As of the first of November, Corsair has now launched the MP600-GS model series, combining excellent performance in both writing and reading data in the familiar M.2-2280 format.
A heatsink is omitted this time. However, this is not necessarily a bad thing, since many current motherboards offer their own cooling solutions, which often do not allow the use of included heatsinks. In total, the model range includes three SSDs, which differ in terms of storage capacity and sequential write performance. We have summarized the most important technical data in the following table.
The Corsair MP600 GS models at a glance
Corsair MP600 GS 2TB
Corsair MP600 GS 1TB
Corsair MP600 GS 500GB
Form factor
M.2 (2280)
M.2 (2280)
M.2 (2280)
Interface
PCIe 4.0 x4
PCIe 4.0 x4
PCIe 4.0 x4
NAND technology
3D TLC NAND
3D TLC NAND
3D TLC NAND
Capacity
2 TB
1 TB
500 GB
Data transfer rates
(sequential according to manufacturer)
up to 4,800 MB/s read up to 4,500 MB/s write
up to 4,800 MB/s read
up to 3,900 MB/s write
up to 4,800 MB/s read up to 3,500 MB/s write
Endurance
1,200 TBW
600 TBW
300 TBW
Projected lifetime
1,500,000 h
1,500,000 h
1,500,000 h
Warranty period
5 years
5 years
5 years
Part number
CSSD-F2000GBMP600GS
CSSD-F1000GBMP600GS
CSSD-F0500GBMP600GS
Measured values - MP600 GS with good performance
The Gigabyte X670E Aorus Master with AMD Ryzen 9 7950X serves as the basis for this test, which is also our current GPU test system. We could not quite reach the manufacturer's specifications in the test. We could only achieve just under 4,100 MB/s when reading data sequentially with the AS SSD. Nevertheless, the write rate of around 4,500 MB/s is achieved. The determined values nevertheless demonstrate the very good performance of the new Corsair MP600 GS.
We find the extremely good 4K read rate with almost 100 MB/s very impressive. Applications that require a lot of small files to be loaded benefit from this. Subjectively, the SSD performs very well in everyday use. In addition, the Corsair MP600-GS series is also backward compatible, which means that M.2 interfaces, which only offer PCIe 3.0 speed, are also supported. However, a slightly lower performance is then expected.
Due to the massive cooler, which the Gigabyte X670E Aorus Master comes with, the SSD's temperatures can be kept in the green zone even during longer loads. Figuratively, this means that permanently high performance is available.
For further comparisons and benchmarks, we refer to our Comparison chart.
Corsair MP600 GS
Sequential Read: 3174 MB/s
Sequential Write: 4272 MB/s
4K QD32 Write: 640.7 MB/s
Continuous Read: DiskSpd Read Loop, Queue Depth 8
Conclusion - A lot of power for many applications
The Corsair MP600 GS 2 TB SSD offers a lot of storage space in the compact M.2 2280 format, without affording itself any major weaknesses. Nevertheless, we have to mention that the stated performance was not quite reached in our case. However, we should not overestimate this fact, because the ascertained values are exceedingly very good for everyday use.
The Corsair MP600 GS 2 TB is a fast SSD with a lot of storage space and thus the perfect model for use in a gaming system.
We were also positively surprised by the very good 4K read rates, which we have rarely seen so far. Thus, the Corsair MP600 GS 2 TB SSD is primarily aimed at gamers who want to set up a fast system. But this SSD is also very interesting for outfitters. With this, laptops or compact mini-PCs can be accelerated properly, because a fast SSD is often the key to a smoothly running system.
Note: The author of the review was provided with the Corsair MP600 SSD free of charge by the manufacturer.
Prices and availability
Currently, the Corsair MP600 GS 2 TB can be pre-ordered on the manufacturer's website. The manufacturer's RRP is 225 Euros. Alternatively, the 2 TB model is also available at Amazon for 230 Euros. The 1 TB model, on the other hand, is already available for 120 Euros and is also listed on Amazon.
I was already interested in technology from an early age, and I was able to study for my dream job as an IT Systems Electronics Engineer. Subsequently, I started 12 years of military service, during which I learned a lot about technology and constantly kept my knowledge up to date with the latest developments. As I like to share my knowledge, I found Notebookcheck was a very good opportunity for this. In addition, I also work a lot with water cooling and network security.
My main responsibility as an editorial assistant is maintaining the Library section, which aggregates reviews from other publications and channels. In addition, my daily breakfast is Notebookcheck's long list of new content, which I comb through to select the most interesting topics for translation from English to French, Italian, Spanish, Portuguese, and Dutch."