Bonkers 3600 W Zero 10x e-scooter and 3 other premium e-mobility rides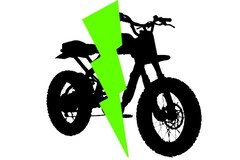 The choices and comments made on this list belong solely to the author.
1. The Kuberg Ranger downhill...scooter?
The Kuberg Ranger is an off-road e-scooter - a bit of an odd mix of a downhill mountain bike and an e-scooter. An interesting proposition for those of us who just want to go into the countryside on the weekend and kick up some dirt. It has a range of around 60 kilometers (37.2 miles) - decent but certainly not stellar. - and the 14 kW motor kicks out a top speed of around 80 km/h (49.7 mph).
What sets the Ranger apart is the flexibility and fun factor. Its low center of gravity and light weight should make it a great dirt bike alternative for those skinny trails. The swappable battery could also come in handy for longer trails if you can find somewhere to stow it. The Kuberg Volt App allows you to customise your power output and monitor ride statistics and even set a riding perimeter to reel in overly-eager children.
Despite being a scooter, the Ranger features a reclining seat that gets out of the way for increased maneuverability on the bike. Kuberg advertises the Ranger as being the bike you want for tackling jumps and trails - a position supported by the Manitou Dorado Expert 180 mm front suspension and DNM Burner coil-sprung rear shock. All this tech does come at a premium - starting at US$5,508.45 for the 8 kW base model and going all the way up to US$8,694.75 for the full 14 kW kit with regenerative braking.
Unfortunately, the Ranger is not street legal. If you're looking for a street-legal Kuberg, have a gander at the Freerider Street.
2. Marin Sausalito E1 commuter e-bike
Marin's Sausalito E1 is a great commuter e-bike. Seemingly taking design cues from Marin's popular DSX gravel bikes, the Sausalito offers you a way to get to work in style and comfort even if the roads are not in perfect condition. It has 650B wheels and a 250 W Shimano mid-drive motor for maximum efficiency in combination with the Shimano Deore 10-speed gearset.
A neat feature of the Sausalito is the removable battery, which means you could easily get another battery to swap them out and maximise range. A great use case is leaving one battery at the office and the other at home. That way, you always have a full charge and could conceivably use it for your daily commute even if you live a little further from work. The Sausalito E1 comes in at US$2,499 directly from Marin USA.
3. Zero 10x 1200 W dual motor scooter
Getting into the less orthodox modes of transport, the Zero 10x is a high-performance e-scooter. Powered by two 1200 W nominal output hub motors and up to a 60 V LG battery, the Zero 10x has way more go than any kick scooter should. Maxing out at a peak output of 3600 W and a top speed of 65 km/h (40.4 mph), you definitely should be wearing a helmet when riding this miniature monster.
Although the 10x is rather small and folds up, the portability is debatable. Coming in at 35 kilograms (77 lbs), you would be hard-pressed to carry it up more than one or two flights of stairs. The 10x is perhaps better paired with a train commute and a ground-floor office. The Zero 10x isn't even the cheapest ride here, coming in at US$2,850.00 from Zero directly.
4. SUPER73-RX Mojave
The SUPER73-RX Mojave is a street-legal e-bike styled after a classic café racer motorcycle. It even comes equipped with rugged-looking, dual-purpose tyres. Being street-legal, it has pedal assist and restricted riding modes for road use. In the Class-2 mode and Class-3 modes, the RX-Mojave operates with only 750 W from the rear hub motor. It can be unlimited to run at a much higher 2000 W by using the companion app.
The RX Mojave tops out at around 51 km/h (31.7 mph), according to The Verge's review. SUPER73 claims a range of "40 + miles at 20 mph under throttle." While 64 kilometers (39.8 miles) is definitely nothing to scoff at, SUPER73 doesn't provide any solid numbers or even an estimate at unlimited top speed.
If you're looking for a daily commuter that you can also take on a light off-road trail over the weekend, the SUPER73-RX Mojave may be a worthwhile option to investigate. Starting at US$3,695.00, the RX Mojave is on pre-order for delivery in May 2022 directly from SUPER73.
Or maybe you already have a ride. Got a helmet? How about this BELL Super DH MIPS helmet with a detachable chin bar. Available on Amazon.
My interest in tech started in high school, rooting and flashing my Motorola Defy, but I really fell down the rabbit hole when I realised I could overclock the i7 930 in my Gigabyte pre-built PC. This tinkering addiction eventually lead me to study product design in university. I think tech should improve the lives of the people using it, no matter the field. I like to read and write about laptops, smartphones, software and trends in technology.