Benchmark Check: Mass Effect 3 Demo in Review

A debut at Notebookcheck: Starting this year, we will publish dedicated benchmark articles on popular, first-rate and/or promising games. Mass Effect 3, a prominent role game from the legendary developer BioWare, kicks it off. We would like to give special thanks to Schenker Notebooks for the support regarding the test systems.
Description
The first two Mass Effect prequels not only captivated with a unique sci-fi world and an exciting story, but also with great freedom of choice and credible characters with depth. The international rankings were accordingly high: While Mass Effect achieved an average of 89%, Mass Effect 2 even achieved 94% (according to metacritic.com).
The demo of Mass Effect 3 (can be downloaded via EA's online platform Origin) made a good, but in no way overwhelming impression on us. Despite the gigantic alien behemoths, the attack on the Earth is rather lame. Graphics and animations aren't quite up-to-date anymore; the recurring and not particularly strategic gunfire sequences are also a bit tiring (including the poor enemy kit). It's the same in the second, equally action-packed demo mission (rescuing a Krogan woman from a Salarian planet).
We believe that Mass Effect 3 will nevertheless be a very good game. BioWare has proved that it knows what it's doing in the past (just think of the magnificent Dragon Age). The series primarily thrives through its characters and dialogs; the action scenes were never the hit.
Benchmarks
We used the playable introduction of the first demo mission for the benchmark sequence. Here, the main character (male or female) flees to Normandy with Commander Shepard. Some of the seemingly never-ending intro videos can be skipped by pressing the space bar. As can be seen in the following video, we recorded approximately one minute of game play with the tool Fraps.
Our experience shows that the frame rate of the benchmark sequence doesn't differ much from the rest of the demo. Whether BioWare will work on the performance until the final sale version is released (March 9th in Europe) is unknown. In any event, odd stutters or performance decreases weren't noticed; the engine appears to be well optimized. Note: Mass Effect 3 likely always runs with activated VSync (prevents line interlacing) because we could never measure more than 60 fps.
Settings
There's not much available in the graphics options. Apart from the resolution, window mode and brightness, only antialiasing and shadow quality can be adjusted, respectively turned on and off. Slightly more detailed options can be found in the gaming folder under "Binaries" (MassEffect3DemoConfig). Generally, it's not possible to manipulate the texture quality. Thus, although the sci-fi epic looks good even in minimum settings, the track doesn't stand a chance against The Witcher 2.
But regardless of the graphics quality, we execute the performance measurements with the following settings:
Ultra settings = 1920 x 1080, all on, 8x AF
High settings = 1366 x 768, all on, 4x AF
Low settings = 1280 x 720, all off
It's a bit aggravating that Nvidia's Optimus technology didn't identify the Mass Effect 3 demo properly. The game always started with the integrated rather than the dedicated graphics cards despite several tries. Consequently, we can't provide any results for the GeForce GT 630M (Schenker Xesia M501) and GeForce GT 555M (Schenker XMG A501).
A few comparison pictures with the selected graphics options now follow. Apart from light and shadows (see face in picture 3), the differences are kept within limits.
Results
The hardware requirements are fairly moderate. A low-end graphics card is already enough when all options are disabled and the game is played in a low resolution within a range of 1280x720. For example, the HD Graphics 3000 integrated in Intel's Sandy Bridge processors.
Notebooks with a midrange graphics card, on a par with the GeForce GT 540M, usually allow setting all options to "on" and selecting a medium resolution (e.g. 1366x768 pixels). In the meantime, a GeForce GT 555M or Radeon HD 6770M should be enough for 1920x1080 pixels. Full-fledged high-end models, such as the GeForce GTX 560M, easily accomplish over 40 fps.
Tip: In case of performance problems, Dynamic Shadows should be disabled first – that increases the frame rates considerably.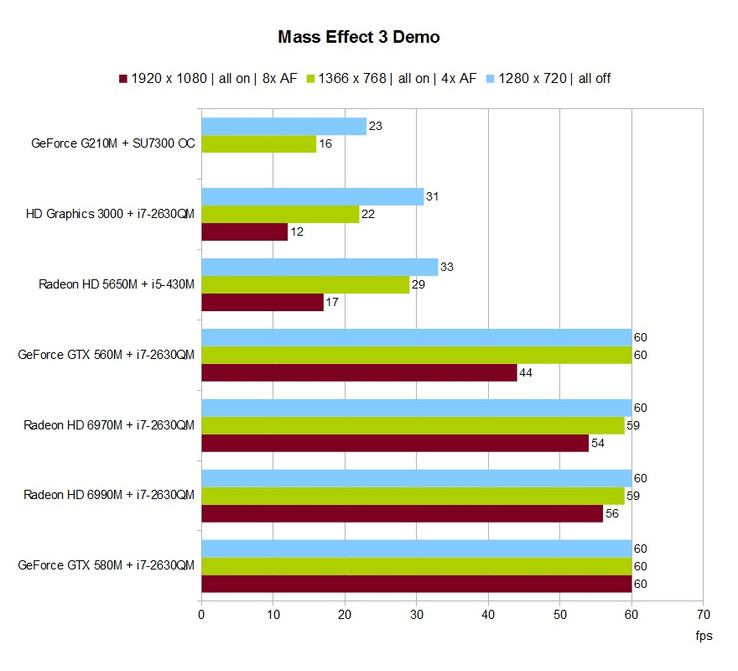 Verdict
Mass Effect 3 is not a sensation technically, but it treats the resources quite efficiently. Users with a typical midrange notebook can enjoy the role game in good quality (including antialiasing and anisotropic filtering). High-performance graphics cards are only necessary in high resolutions.
On the whole, BioWare supplies a rounded and well-engineered package, judging by the demo. We are very excited about the final product and hope that Mass Effect 3 will be on a par with its prequels.
Test Systems
Lastly, a description of the used devices:
Schenker XMG P501 (Core i7-2630QM, GeForce GTX 560M, GTX 580M, Radeon HD 6970M & HD 6990M, 8 GB RAM)
Schenker XMG A501 (Core i7-2630QM, HD Graphics 3000 & GeForce GT 555M, 8 GB RAM)
Acer TravelMate 7740G (Core i5-430M, Radeon HD 5650M, 4 GB RAM)
Asus UL50VF (Core 2 Duo SU7300 OC, GeForce G210M, 4 GB RAM)
With exception of the UL50VF, the newest WHQL GPU driver was used in each case (ForceWare 285.62 by Nvidia, Catalyst 12.1 by AMD, 295 beta in UL50VF).
Not only more benchmarks, but also detailed information about notebook graphics cards can be found in our gaming chart.
Feedback
Since this is our first benchmark check, we are of course anxious to hear your opinion. What did you like/not like? What should we change, improve or add in the future? The comment box awaits your answers...
Alan Wake, a mystery thriller from the makers of Max Payne will likely follow next.