Audiobooks on Google Play now feature Bookmarks, Smart Resume, and more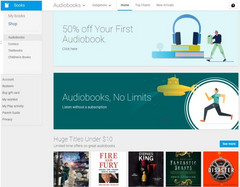 About two months since audiobooks became available for download and listening via Google Play and the iTunes Store for the first time, an update aims to improve the user's experience by adding bookmarks and smart resume capabilities. In addition to them, the update also brings the Family Library feature to 13 new countries and refines the playback speed settings.
Although Google Play was introduced as Android Market in late October 2008, this digital distribution service only received an audiobooks section less than three months ago. Earlier this week, the user experience of those who download and listen to audiobooks on Google Play has been improved thanks to the addition of two standout features, together with a few minor refinements.
The Bookmarks feature does exactly what its name says: if the user finds a certain line or paragraph to be captivating, he/she simply needs to tap the Bookmark icon for an easy return to that moment in the future. The Smart Resume capability, on the other hand, returns to the beginning of a sentence or word when the user had paused it in the middle earlier, and resuming right from that moment would not make much sense.
In addition to the above, the playback speed can be adjusted between 0.5x and 3x the normal speed, audiobooks are now an option for Google Home's new Routines features and the Family Libray has been expanded to 13 new countries, including Russia, Germany, Spain, Mexico, and others.
All the new features for Google Play audiobooks are rolling out already to those who use this service on both Android and iOS devices. Sadly, there are still many markets where Google Play audiobooks are not available yet, but this can only improve in the future.