Apple tells the FCC they can't enable FM radio in the iPhone 8 because it doesn't have one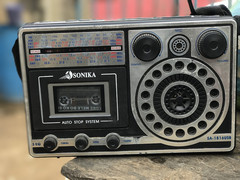 In response to the FCC asking Apple to "do the right thing" and enable the FM radio in the iPhone, Apple have responded to say they can't because the iPhone 7 and iPhone 8 don't have FM radio hardware.
At one point, having an FM radio was a selling point for a smartphone, but the inclusion of an FM radio has fallen out of fashion in recent years. Because of issues during the recent hurricanes in the United States where cell phone towers were out of action, but FM radio was still transmitting, the FCC has asked Apple to "turn on" the FM radio within the iPhone. Saying in the Sun Sentinel "Do the right thing, [Apple CEO Tim Cook]. Flip the switch. Lives depend on it."

Apple has responded by saying that they can't enable FM radio on the iPhone 7 or iPhone 8 because these phones don't contain FM radio hardware. During teardown reviews, such as those by iFixit, reviewers have identified an "FM radio capable" chip in the iPhone 8. However, Apple is known to request custom components from hardware partners so there is every possibility that the chip might not have FM functionality. Also when the FM radio hardware is present in phones, the manufacturer hasn't necessarily wired in the required connections for the FM radio and the external antenna.

Apple's full statement is "Apple cares deeply about the safety of our users, especially during times of crisis and that's why we have engineered modern safety solutions into our products. Users can dial emergency services and access Medical ID card information directly from the Lock Screen, and we enable government emergency notifications, ranging from Weather Advisories to AMBER alerts. iPhone 7 and iPhone 8 models do not have FM radio chips in them nor do they have antennas designed to support FM signals, so it is not possible to enable FM reception in these products."
Working For Notebookcheck
Are you a techie who knows how to write? Then join our Team! Especially English native speakers welcome!
Currently wanted:
News and Editorial Editor - Details here