A new 1 TB Surface Laptop is available for those with US$2700 burning a hole in their wallet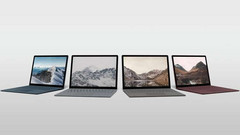 Microsoft is now taking pre-orders for a variant of the Surface Laptop that features an i7-7660u, 16 GB of RAM, and a 1 TB solid state drive. It is due to arrive on October 3rd, which is almost an entire month earlier than the new color options are due.
The Microsoft Surface laptop is a beautiful device with a solid construction and great battery life. However, with the existing four configuration options, Microsoft restricted users to a maximum SSD size of 512 GB. These four configuration options are:
We recommend avoiding the 4 GB RAM / 128 GB storage option — unless you intend to stay on windows 10S — as both of these specs are too limiting in the non-upgradeable Surface Laptop. When comparing prices, keep in mind that the i7 versions feature the more powerful Iris 640 iGPU vs. the standard HD520 in the i5 models.

Not long ago, Microsoft announced a range of new colors coming to the existing Core i7 line-up, which are due to arrive around the end of October. However, the Microsoft Store now lists a new top-end variant which trades the 512 GB SSD for a 1 TB drive at US$2700. This will be a welcome addition for those who need to store a lot of data directly on the laptop itself. But at a US$500 premium over the 512 GB option, consumers need to think carefully about how much they would pay for the convenience of not having to carry an external storage drive.

In the Surface Laptop line-up, we think that the 8 GB RAM / 256 GB storage models of both the i5 and the i7 remain the more attractive option price wise. My colleague, Douglas Black, has written a detailed opinion piece on the problems of 'disposable' laptops with soldered storage, including why 256 GB might not be enough for people with more than a few programs and photos. However, if you want the top-of-the-line option, then pre-orders are open now for a 3rd of October release.