40 TB+ hard drives by 2025 thanks to Western Digital's new microwave-assisted writing technology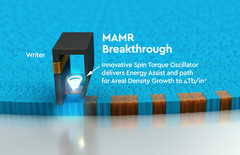 Western Digital's new microwave-assisted magnetic recording technology allows for huge increases in data density. Capacities of 40 TB plus should be reached within 8 years.
Most consumer excitement in the last few years has been around ever-improving solid state drives, rather than the old workhorse, the hard drive. Despite that, hard drives still hold the lead in providing affordable data storage solutions, with capacities up to 14 TB currently available for OEMs or 12 TB for consumers from Western Digital and Seagate.
Western Digital has developed a new technology which they revealed at their "Innovating to Fuel the Next Decade of Big Data" event, known as microwave-assisted magnetic recording (MAMR). Western Digital expects drives using this technology will start appearing in data centers from 2019. MAMR is a competing technology to heat-assisted magnetic recording (HAMR), and it is preferred due to benefits in reliability and cost, despite HAMR having a much cooler name.
MAMR uses a "spin torque oscillator" to create a microwave field, and this is key to reliable ultra-high-density writing. Western Digital is confident that the increased density it allows will mean that they can produce 40 TB+ hard drives by 2025, and the technology should allow for improvements passed that point too.
"Western Digital's demonstration of MAMR technology is a significant breakthrough for the hard disk drive industry," said John Rydning, research vice president, Hard Disk Drives, IDC. "Commercialization of MAMR technology will pave the way to higher recording densities, and lower cost per terabyte hard disk drives for enterprise datacenters, video surveillance systems, and consumer NAS products."
Working For Notebookcheck
Are you a techie who knows how to write? Then join our Team! Especially English native speakers welcome!
Currently wanted:
News and Editorial Editor - Details here

Western Digital press release