Deal | 2021 Asus Zephyrus G14 with Ryzen 9 5900HS CPU, GeForce RTX 3060 GPU, 144 Hz 1080p display, and 1 TB PCIe SSD now available for $1500 USD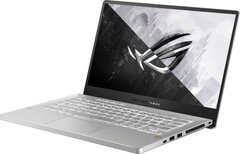 Unveiled at CES 2021, the 2021 Zephyrus G14 succeeds last year's Zephyrus G14 with new Zen 3 CPUs and Nvidia Ampere GPUs to replace the older Zen 2 and Turing options, respectively. The chassis is otherwise essentially identical year-over-year meaning that our impressions on the 2020 Zephyrus G14 also apply here for the 2021 version.
The Zephyrus G14 was notable at launch for being one of the fastest 14-inch laptops available. No other laptop in its size category would come with the same Ryzen 9 4900HS CPU and GeForce RTX 2060 Max-Q GPU for an impressive level of raw performance relative to the screen size. Multi-thread CPU benchmarks would even put the Ryzen 9 4900HS in the same ballpark as the best mobile 10th gen Core i9 processors found on laptops twice the size.
The 2021 version comes equipped with the even faster Ryzen 9 5900HS CPU and GeForce RTX 3060 to cement Asus' position as the 14-inch performance king. The $1500 USD price point can certainly get you a faster gaming laptop, but none would be as small or portable as the Zephyrus G14.
Note that the laptop does not support Thunderbolt devices. Expect loud fans as well when running games or other demanding loads as well.
See our review on the Zephyrus G14 to learn more about the system.
8-core AMD Ryzen 9 5900HS CPU
GeForce RTX 3060 w/ 6 GB GDDR6 VRAM (Max-Q performance)
1 TB M.2 NVMe SSD
16 GB RAM (8 GB soldered + 8 GB removable)
14-inch 1080p IPS 100 percent sRGB, FreeSync compatible, 144 Hz
17.9 x 324 x 222 mm
~1.6 kg
Source(s)
Notebookcheck may receive commissions from purchases made through our link
Top 10 Laptops
Multimedia, Budget Multimedia, Gaming, Budget Gaming, Lightweight Gaming, Business, Budget Office, Workstation, Subnotebooks, Ultrabooks, Chromebooks
under 300 USD/Euros, under 500 USD/Euros, 1,000 USD/Euros, for University Students, Best Displays
Top 10 Smartphones
Smartphones, Phablets, ≤6-inch, Camera Smartphones