14-core Alder Lake-P processor splutters through Geekbench test with the usual curious results but retains promise of great things for Intel's 10 nm hybrid generation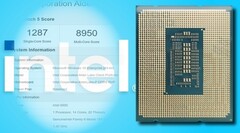 There have been a few Alder Lake-related leaks so far, but it is still too early to try to pinpoint what performance levels we can expect from Intel's 12th Gen hybrid processors. An Alder Lake-P sample, which could be eventually heading to a mobile platform, pulled out scores of 1,287 points in the single-core test and 8,950 points in the multi-core run in a recent Geekbench 5 appearance. Those aren't terrible scores; in fact, they are even greater than those recorded by a likely more-powerful 16-core Alder Lake-S SKU that we reported on back in December of last year.
The 14-core, 20-thread Alder Lake-P chip at stepping level 0 (engineering sample) should be made up of six Golden Cove cores for high-performance operation and eight Gracemont cores for efficiency, thus utilizing a hybrid architecture akin to Apple's successful ARM-based M1 chip. As only the Golden Cove cores can take advantage of Hyper-Threading technology, this explains the curious thread count: (6x2) + (8x1) = 20. The novel microarchitecture of the Intel Alder Lake chip will also explain the 27.1 GHz misreading for CPU maximum frequency. The base clock rate is recorded as 1.40 GHz.
Alder Lake, at least at the moment, doesn't seem to be a generation aimed at those who just want the fastest CPU speeds and the quickest benchmark performances. Intel will be producing the chips based on its 10 nm Enhanced SuperFin process, so there's the promise of greater energy efficiency from Team Blue for a start. On top of that, there is DDR5 support, which is mentioned in the Geekbench listing for this 14-core Alder Lake-P sample. The hybrid chip series, which is rumored to be coming in November, will require new LGA 1700 motherboards for the desktop parts, though.
My interest in technology began after I was presented with an Atari 800XL home computer in the mid-1980s. I especially enjoy writing about technological advances, compelling rumors, and intriguing tech-related leaks. I have a degree in International Relations and Strategic Studies and count my family, reading, writing, and travel as the main passions of my life. I have been with Notebookcheck since 2012.