World's first stretchable display to be unveiled this week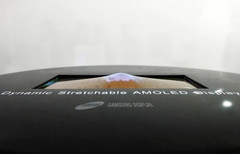 This whole new technology will be displayed at the Society for Information Display 2017 in Los Angeles. The event starts tomorrow and runs until Thursday. Unlike flexible panels currently available, stretchable OLED displays can bend in both directions.
Working For Notebookcheck
Are you a techie who knows how to write? Then join our Team! Especially English native speakers welcome!
Currently wanted:
News and Editorial Editor - Details here

Although foldable smartphones and phablets are still in the concept/prototype stage, Samsung Display is taking the existing technology one step forward. During this year's Society for Information Display event that takes place in Los Angeles starting tomorrow, Samsung's display-making affiliate will unveil the world's first stretchable display.
According to Yonhap News, "The South Korean company said the stretchable OLED display is unique since it can bend in both directions, while previous flexible panels could only bend in one direction." Industry experts claim that the technology involved in building such panels is far more complex than anything used for the displays currently available, making this stretchable AMOLED panel "the ultimate product in flexible technology."
Samsung claims that the new display can stretch up to 12 millimeters when pressed while maintaining a high resolution. This display will be shown in a 9.1-inch version and is expected to be used for IoT and AI-related products. Obviously, it might take at least one year or two until this technology reaches the masses.