Vodafone extends its 500 Mbps network across ten more cities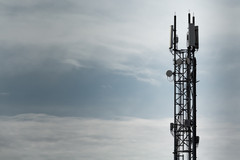 Known as "LTE Turbo" or "4.5G", only certain flagship smartphones in the market today can make use of the faster speeds including the Galaxy S8, S8 Plus, and the Xperia XZ and XZ Premium.
Popular wireless network provider Vodafone announced at CeBIT 2017 that it would begin testing its 500 Mbps towers in more cities throughout the year. While details were low at the time, we now know that the provider will be adding the following ten German cities to its list with the goal of reaching 30 cities total by the end of the quarter:
Berlin
Coswig
Cottbus
Dresden
Dortmund
Erfurt
Mannheim
Moers
Remscheid
Stuttgart
Berlin in particular was already benefiting from 500 Mbps network speeds since late 2016 as a test run, but this was limited to local areas of high foot traffic such as the city's main train stations. Turbo LTE will soon blanket much more of the capital.
Sometimes referred to as 4.5G, LTE Turbo utilizes three frequencies ranges (800, 1800, and 2600 MHz) more effectively to reach its theoretical downstream maximum of 500 Mbps compared to <50 Mbps on standard 4G networks or 1000 Mbps on the next generation of 5G networks. The aggregation of multiple existing bands for faster speeds is similar to how the 802.11ac standard differentiates itself from 802.11n for home WiFi networks. Unfortunately for anyone wanting to take advantage of 4.5G speeds, a compatible smartphone will be required and the list is currently extremely short.
Working For Notebookcheck
Are you a techie who knows how to write? Then join our Team! Especially English native speakers welcome!
Currently wanted:
News and Editorial Editor - Details here