Vine coming back from the dead as Byte, now in beta testing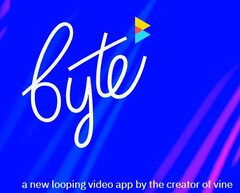 Those who have been missing Vine — and/or have been not happy with TikTok — can now fill the void with Byte. The new looping video app comes from Vine's founder and it is currently undergoing closed beta testing. For now, only 100 testers are able to take it for a spin, but more people should be invited soon.
Founded in June 2012, Vine was acquired later that year by Twitter. The short-form-video-hosting service launched in late January 2013, and climbed up to over 200 million active users in less than three years. Twitter discontinued the service in late 2016, launching an archive of all Vine videos in January 2017. Announced as Vine's successor, V2 is now known as Byte and already in closed beta testing.
Yesterday, the first 100 beta invites for the Byte closed beta test were sent out. testing began earlier today and those who missed taking this service for a spin this time should be able to jump in soon. Byte is quite similar to Vine, allowing its users to record and upload short vertical video loops to a currently reverse-chronological feed.
Since Vine was discontinued, its place has been taken by TikTok, which managed to become very popular, so Byte has a tough fight ahead. However, the service should first complete a few testing stages before becoming available to the public.
If you are one of the lucky 100 who have been selected for the beta test — and not silenced by some NDA, of course — it would be great to hear from you how Byte feels at this stage. Obviously, if you are one of the many who are missing Vine, you are also welcome to drop a comment below.