UGREEN Nexode GaN fast chargers hands-on
Between how reliant on smart devices most of our work is and how busy our days have become, fast charging has rapidly grown in popularity. Many smartphones and tablets are sold with a fast charger in the box, and most of these promise to fully charge your device in less than an hour. However, there are some major tradeoffs. Typically, fast chargers are significantly larger than their slower brethren, and they tend to run much hotter as well.
Companies are starting to introduce new methods of charging to mitigate these drawbacks. One such solution is gallium nitride (commonly denoted "GaN"). While the material has been around for a couple of decades, its inclusion in chargers is relatively new. GaN chargers bring several benefits. They can hit higher wattages in more compact cases than traditional silicon chargers and tend to generate less heat.
UGREEN is a company that manufactures a variety of electronic accessories, including cables and chargers. The company sent me a few of their new Nexode chargers for review: the Nexode Mini (a small 45 watt USB-C charger) and the larger 140 watt wall charger with three ports. We'll take a look at how these chargers compare to others, especially with regard to charging speeds and heat output.
Design
The first thing I noticed when taking each charger out of its box is how dense it felt. The Mini weighs in at 100 g, while the larger 140 W charger is 301 g. Compared to the 23 g of a standard 5 W USB-A iPhone charger and the 57 g 20 W iPad USB-C charger from Apple, this is quite a bit of added heft.
The Mini is roughly double the size of the iPad charger, measuring 3.99 x 3.99 x 4.90 cm (1.57 x 1.57 x 1.93 in). As such, it's bulky for a wall wart, but it isn't unwieldy. I never worried that it would fall out of an outlet. Nexode puts this extra size to use by fitting two USB-C ports on the Mini.
The larger 140 W charger is about the size of a MacBook Pro charger, measuring 7.62 x 7.62 x 3.50 cm (3 x 3 x 1.38 in). It boasts two USB-C charging ports and a USB-A port, allowing it to charge up to 3 devices at once. Considering it can output up to 140 watts on a single port and 65 watts on two ports, the charger could feasibly replace two dedicated chargers and clear up a lot of clutter at a desk or in a backpack.

Both chargers feel sturdy in the hand. They are made from thick matte gray and black plastics. Gaps along the edges where faces meet are slightly larger than those present in Apple's chargers, but they are tight enough that I doubt dust could enter. Despite my wife and I tossing both chargers into bags and hauling them to coffee shops and offices over the past three months, neither has shown any sign of use aside from some fingerprints that are easy to wipe away. Both chargers have folding prongs that snap out and back in with a satisfying feel. I am confident these chargers will continue to look great years from now.
Features and performance
So the chargers look and feel high-quality. Can they deliver on their fast-charging promises?
In a word, absolutely. The Nexode Mini is designed to charge smartphones and tablets, and it does this very well. It can charge a single device at up to 45 watts (or the device's maximum supported charging rate if lower than 45 watts). The Mini charges my iPhone 13 at its peak of 20 watts and can charge a laptop via USB-C at 45 watts. It can also charge two devices at once, one at 20 watts and one at 25 watts. The mini tries to supply the maximum wattage demanded, meaning hungrier devices will get 25 watts while smaller devices (e.g., a smartphone) will get 20 watts if both are charged simultaneously.
In practice, my wife and I can charge both of our phones (hers is an iPhone 13 Pro Max) at the same time, and both phones will pull 20 watts of juice. By my observation, it charges my iPhone 13 at about 2% per minute from 0-50%, then slows to roughly 1.5% per minute up to about 80%, and then charges at roughly 0.5-1% per minute up to 100%. This means a full charge (0-100%) would take about 77 minutes. My wife's phone battery percentage went up at a slower rate, but this is expected as her iPhone 13 Pro Max has a much larger battery. Her phone took roughly an hour and a half to charge from 0 to 100%, but the first 50% took about 35 minutes (getting an audible "Wow!" from her). These numbers held when both of our phones charged simultaneously.
The Nexode 140 watt charger similarly works well. The USB-A port supports 20 watt charging and charges my iPhone 13 at a rate similar to that of the Nexode Mini. One USB-C port on the 140 watt charger supports up to 100 watts, and the other USB-C Port charges at 140 watts (hence the name). Keep in mind that you can only hit 140 watts with a compatible USB-C cable. Thankfully, UGREEN includes such a cable with the charger. It's a high-quality braided cable measuring 1.5 meters (5 ft).
In my testing, the charger hits its rated speeds. Perhaps more impressively, it can charge two laptops at 65 watts each (via USB-C). You can plug in three devices at a time as well, though charging through the USB-C ports appears to drop to 45 watts. The USB-A port continues to provide 20 watts, however. I tested a practical application by charging two laptops I own; one uses a 45 watt USB-C charger, and the other uses a 65 watt USB-C charger. With both laptops plugged into the charger, they charged at the same speed they normally do with their dedicated chargers. Plugging in my iPhone 13 dropped the charging speed on the 65 watt laptop down to what I normally see when I use a 45 watt charger. All said, it's quite impressive that one fairly compact charging brick can replace three dedicated chargers.
UGREEN's wall warts have so far shown two of the three advantages of GaN chargers. How do they handle heat? Considering their small size and how much power they're putting out, both chargers put off a relatively low amount of heat. The Mini, when charging two iPhones, the Mini capped out at just north of 29º C (84º F), while Apple's 20 watt charger averaged 35º C (95º F) charging only one device. The 140 watt charger maxed out at 46º C (115º F) on the right side when charging two laptops under full CPU load and an iPhone 13 Pro Max. While the devices were idle, the charger averaged about 35º C (95º F). When charging a single laptop or smartphone, the 140 watt charger remained just above room temperature at 26.5º C (80º F).

Conclusion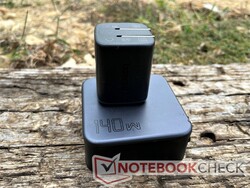 UGREEN hit a home run with its Nexode line. Both the Mini and the 140 watt charger are outstanding devices in their own rights. The Mini is a fantastic fast charger for people that need to charge two devices at the same time, whether it's a couple juicing up their phones or someone charging a tablet and smartphone while they get ready in the morning. Considering its compact size and low heat output, it's a winner.
The 140 watt charger is also quite impressive. In a case that's the same size (or smaller) than other high-wattage USB-C chargers, the Nexode 140 watt charger can charge up three devices, including laptops, at a high enough rate to get through the rest of the day. I can imagine collaborative offices where workers share a desk would find the 140 watt charger a convenient solution to cut down on cable clutter.
There are some drawbacks. The first is price; compared to other fast chargers, the Nexode chargers have a definite price premium. For example, Apple's 140 watt USB-C charger is US$99, but the Nexode 140 watt charger is $149.99. Additionally, they are fairly bulky and heavy compared to other chargers. While I wouldn't say they aren't portable, they have some heft to them and take up a lot of room on a power strip.
Price and availability

The Nexode Mini currently retails for US$39.99 and the Nexode 140 watt charger goes for $149.99. These prices are a bit high, but consider that the Nexode chargers can each replace 2-3 fast chargers by themselves. At press time, the Nexode Mini sells for $31.99 on Amazon, and the 140 watt charger is listed at $112.49 on Amazon. UGREEN is also running a promo on their website. Use coupon code NC30 to get 30% off any charger in the Nexode line at UGREEN's site. This brings the price of the Mini to $27.99 and the price of the 140 watt charger to $104.99. (All chargers purchased on the site will be shipped from an Amazon warehouse.)
Disclaimer: The author of this review received the UGREEN Nexode Mini and Nexode 140 watt USB-C chargers free of charge from UGREEN for the purpose of testing.

I've been a computer geek my entire life. After graduating college with a degree in Mathematics, I worked in finance and banking a few years before taking a job as a database administrator. I started working with Notebookcheck in October of 2016 and have enjoyed writing news and reviews. I've also written for other outlets including UltrabookReview and GeeksWorldWide, focusing on consumer guidance and video gaming. My areas of interest include the business side of technology, retro gaming, Linux, and innovative gadgets. When I'm not writing on electronics or tinkering with a device, I'm either outside with my family, enjoying a decade-old video game, or playing drums or piano.