Toshiba may sell off most of its flash-memory chip business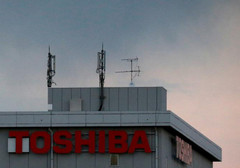 The Japanese company is in a desperate financial situation after years of costly acquisitions in an effort to become the leader of the business industry. As a result, they may have to sell off their entire NAND memory business to remain afloat.
Working For Notebookcheck
Are you a techie who knows how to write? Then join our Team! Especially English native speakers welcome!
Currently wanted:
News and Editorial Editor - Details here

Pressure is mounting on Toshiba to raise substantial amounts of capital after the company revealed on Tuesday that it was facing a $6.3 billion loss in its US nuclear unit. While the company originally planned to sell a little under 20 percent of its NAND memory unit, the situation has become dire enough that the company is now forced to sell off most, if not all of their most valuable business, which makes chips for mobiles and tablets. Toshiba's net worth at the end of 2016 was minus $1.9 billion.
Chief Executive Satoshi Tsunakawa said that the company was considering a number of offers for the chip business and that they were now prepared to give up "a majority of the unit." Earlier on Tuesday, the conglomerate caused some alarm on Wall Street after it failed to release its earnings according to schedule. They eventually released unaudited figures and said that these numbers could still be revised later.
Many of Toshiba's problems stem from the costly acquisition of Westinghouse back in 2006, along with a number of scandals related to inaccurate accounting such as one in 2015 that shook up the company's upper ranks. The fallout from this latest announcement was immediate as Toshiba Corp.'s chairman Shigenori Shiga announced his intention to step down and Toshiba stock tumbled 8 percent.