Top 4 features that make the Google Pixel 6 stand out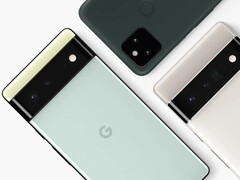 The choices and comments made on this list belong solely to the author.
1. The Pixel software experience
Even back in the day with the Nexus phones that Google made in partnership with LG, Samsung, Motorola, HTC and Huawei, one thing you could always count on was a snappy, reliable and up to date operating system with some unique Google features. This has not changed with the Google Pixel 6. You still get Google's solid software experience with frequent software android updates guaranteed for 3 years and security patches for another 2 years after that. This software support means that if all goes well, you won't have to buy a new phone anytime soon and you will get continued feature updates to add to the already-present offline Google Assistant, live translation and call screening features.
2. Fantastic hardware all-round
From the all-new Tensor SoC to the high refresh rate displays and sizeable batteries, the Pixel 6 and 6 Pro are sure to impress. The all-new custom silicon, designed in partnership with Samsung, integrates extra security features and allows Google to do as much AI processing on-device as possible, which leads to a more streamlined experience when using the Assistant. Moving away from AI features, the Tensor SoC also integrates a new, more powerful image signal processor to help speed up the camera experience and get the most out of the 50 MP and 12 MP rear camera couple.
3. Classic Pixel photography chops
Speaking of camera chops, the Pixel 6 offers some of the best camera performance on any smartphone out now. Often punching above its weight class, the camera system offers great performance in pretty much all conditions thanks to the long awaited upgraded 50 MP optically stabilised main sensor working together with the 12 MP ultrawide lens. Combine the upgraded hardware with Google's new image signal processor and fantastic software processing and you get clean, bright images and videos that even give the iPhone 13 a run for its money.
4. The unique hardware designs
One factor often overlooked when nerds geek out over specs is the physical design of the product in question. While core count, sensor size and GHz are super important to those of us who are more technically inclined, many people take aesthetics heavily into consideration. While the Google Pixel 6's camera bar has been divisive, it is easy to see why someone might even overlook that specific design element. The pastel two-tone back on the Pixel 6 series is nothing if not unique. In a world of glossy white and matt black high-end phones, it is refreshing to see Google taking a more youthful approach while still managing to keep an elegant feel to the devices for the more serious crowd.
My interest in tech started in high school, rooting and flashing my Motorola Defy, but I really fell down the rabbit hole when I realised I could overclock the i7 930 in my Gigabyte pre-built PC. This tinkering addiction eventually lead me to study product design in university. I think tech should improve the lives of the people using it, no matter the field. I like to read and write about laptops, smartphones, software and trends in technology.